The previous standard in guest-facing hotel technology had generally been Windows; when a guest would be staying at a hotel, there would likely be a PC waiting for them loaded with a standard version of Microsoft's marquee product.
Yet the technology used by consumers has rapidly changed, from both Apple computers and Google's push into the cloud-based operation system of Google Chrome. Many businesses are also using Google's product line, which has led to great familiarity with the product.
Uniguest, which creates content and device management solutions, has four different products that the company has baked Google's OS into: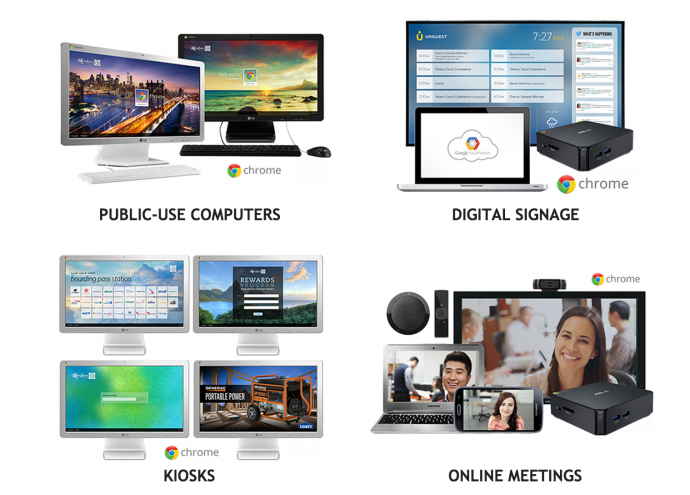 From public computers to boarding pass kiosks to digital signage to managing Google Hangouts for meetings, the usage of Google's Chrome OS creates a full spectrum of matching products so a property can have one managed solution for several uses.
Paul Payette, vice president of global business development, explained why this move is significant when compared with the previous offerings for hotel/guest communications:
The problem people have had over the year is that it's too expensive. The content management systems, the operating systems and all of the integrations — it's very custom and not scalable. With Google coming into the market with Chrome OS, they have disrupted that market because now its very affordable. Literally, you can get a Chromebox and it's a $400 box. That box can actually run multiple machines.
When considering the public-use computers, Uniguest says that it is targeting smaller hotels that might previously have gone to Best Buy and purchased a consumer-grade solution that might not stand up to the rigors of commercial use — unlike the integrated Chromebase monitors:
The good thing about this product is that it is targeted to a market that really doesn't have a product: hotels with 100 rooms or less and it's a product that is under $1,000. All in with support for a year. It's an LG product, and we brand the product while also enhancing the security. It's secure, it's reliable, it's economical.
These sorts of integrations are big news for Google, a company that has been trying to mesh itself into all facets of business and personal life. Videoconferencing via the Chromebox is one big step towards ensuring awareness and acceptance of the Google Hangout solution for businesses.
By working to create solutions that enhance the guest experience, especially for business travelers, Google can offer more reasons for adoption of its software offerings. There's also a new player in town when it comes to managing computers and communications for guests — a moment that doesn't come around that often.
Read original article