As a Koddi blog post points out, Google just added filters — price, rating, hotel class and more — right within its 3-pack style ads so there is no need for the consumer to navigate elsewhere to fine-tune their hotel searches.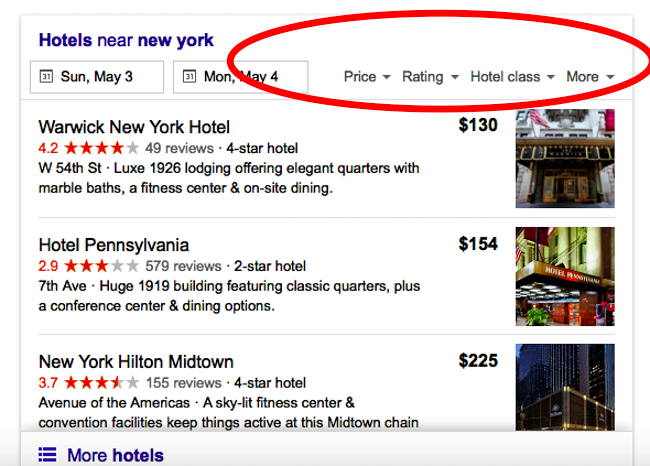 Interestingly, the only choice within the "more" filter is to view hotels that have been rated by Google-owned Zagat.
Here again — antitrust authorities are you listening? — Google squeezes others' organic search results lower on the page and often out of sight with Google's own hotel ads and the only choice under the "more" filter within the ad product is to view the search results from another Google-owned company, Zagat.
If users wanted to filter the hotel search results via TripAdvisor, for example, they wouldn't be able to do it through the Google filter within the hotel ads that take up prime real estate on the search results pages. We should point out, though, that it is unclear whether TripAdvisor would want to be there at all.
Instead using Google's separate Hotel Finder pages, Google's 3-pack ads streamline the entire hotel search and navigation experience. It is a more convenient user experience if users want to remain within the Google framework, and edging out competitors means Google likely is taking market share among metasearch players.
"Once a user selects a filter they are redirected to the local universal listings page," Koddi states "Users can then continue to narrow their search with the same filters, now available at the top of the listings page."
"After a user is finished filtering and clicks on the hotel they wish to book they are redirected to the hotel details page, where all of the offers from advertisers will be listed," Koddi adds.
With Google's 3-pack metasearch ads serving more these days as a quasi-metasearch site, it isn't unreasonable to think that Google Hotel Finder as a separate site may eventually fade away.
These tweaks of adding filters, including Zagat-rated hotels, could be a Google experiment and they come as the European Commission has filed charges against Google for allegedly anticompetitive behavior.
Read original article