But today its sub-brand Amazon Local has added some modest improvements to how it markets, on any given day, around 300 hotels in the US and about 150 in the UK.
It has added a Destinations tab (via the new amazon.com/destinations) to the top of selected Amazon Local pages for Los Angeles, New York City, and Seattle.
The landing page gives a much bolder treatment of travel than Amazon Local has before, with fly-out windows and larger imagery.
If you click on "See All Destinations" under the "Hit the road: Book Local Getaways" you can see the new Destination tab. As of today, only users in Los Angeles, New York City, and Seattle will have the page be promoted to them, though anyone can access it.
The Destination tab has a search box in which you can type in deals for anywhere in Amazon Local's inventory. That's a first for Amazon Local, which has until now relied on variations of short edited galleries, carousels, and a map-based interface for posting options.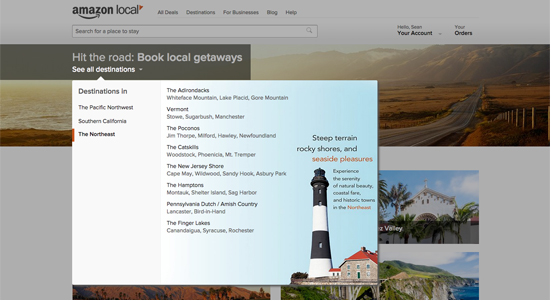 Amazon Local tweaks
Amazon Local also continues to show categories for a broad array of travel services besides hotels: "overnight tours," "guest houses," "cruises," and "airport shuttles."
Cruise inventory is severely limited: Users in Florida, the cruise capital of the US, see only three cruises, and they're coastal small ship cruises — not megaliner ships run by major ocean lines.
Inventory for the other categories is also small. None of this content appears on the Destination pages.
Sparse inventory
The hotels and resorts you see depends on your location. Residents of a few coastal cities, such as LA, New York City, and Seattle, have the most inventory within a day's drive.
In Chicago, an Amazon Local user recently saw two-dozen hotel choices in the map-view. Not all of these were within a day's drive: one was in Hawaii and another was in Vero Beach, Florida.
By clicking a button at the bottom, the user could expand to full results, which (at publication time) meant 58 properties in North America. That number isn't as big as Booking.com's 626,717, of course.