BEIJING—Royal Caribbean Cruises Ltd. is adding to its fleet of ships in China, where the cruise industry and competition within it are heating up.
China is now Royal Caribbean's third-largest market by revenue, after the No. 1 U.S. and No. 2 Europe, a swift move up from No. 50 just five years ago, said Michael Bayley, president and chief executive of Royal Caribbean's international operations. To cater to that market, the Miami-based cruise company is bringing a fifth ship, Ovation of the Seas, to China in April 2016, he said.
The company is developing dry docks in China for servicing ships and port infrastructure for future cruise routes, he said, declining to disclose financial details.
"Potential growth here is greater than the U.S. market," said Mr. Bayley.
U.S. is currently the company's largest market, at about 50% of its revenue. In the next decade, Mr. Bayley said, he expects China's cruise industry may match that of the U.S., where Royal Caribbean carries more than two million passengers each year.
Expansion comes as China has become the world's largest travel market by outbound tourists, according to the United Nations World Tourism Organization, which estimates that 109 million Chinese traveled abroad in 2014, up 11% from the year earlier.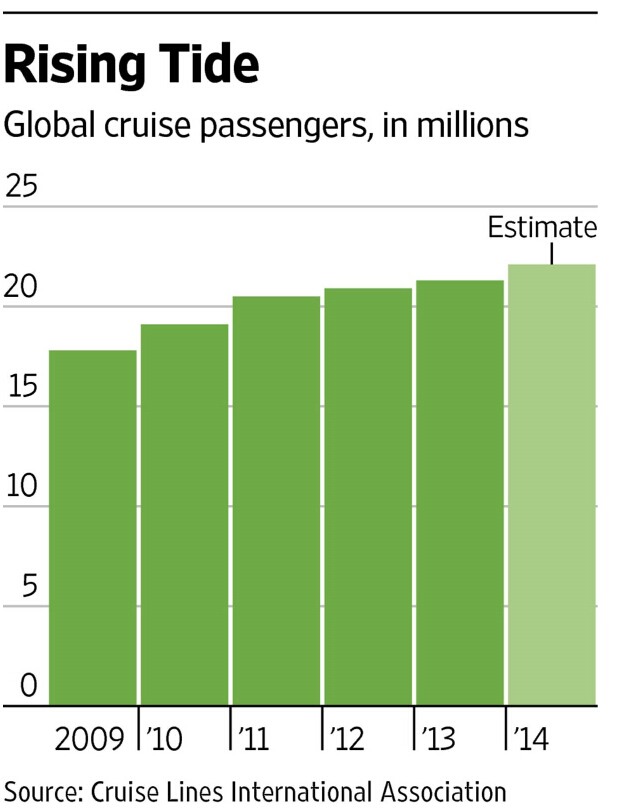 While Chinese are still new to cruises, many are increasingly willing to test out the waters. Last year, China had 697,000 passengers, up 79% from 2013, according to industry group Cruise Lines International Association. That number was just shy of the 701,000 total passengers from all other Asian markets combined in 2014, the group said
Royal Caribbean is revving up amid increased competition. Rival Carnival Corp. has said it was in talks with state-owned China Merchants Group to form two joint ventures that will build cruise ports and ships. The company signed last year a memorandum of understanding with China State Shipbuilding Corp. to convert one of its yards to build cruise ships in partnership with Italy's Fincantieri SpA.
Regional cruise companies are also jumping into the game. Genting Hong Kong Ltd. said earlier in March it plans to expand its fleet through a $550 million acquisition of luxury cruise line Crystal Cruises from NYK Group Americas Inc., a unit of Japanese shipping company Nippon Yusen K.K.
"We like to be out in front of the competition," said Mr. Bayley.
The new ship, which will be launched out of the northern Chinese city of Tianjin and sail to countries such as Japan and South Korea, will offer bumper cars, disco roller skating and basketball, he said.
He said Royal Caribbean is doubling its marketing spending this year to build brand awareness through TV commercials and digital ad campaigns. He declined to give financial details. Royal Caribbean has also been increasing its partnerships with travel agencies. In November, it struck a joint venture with Ctrip.com International Ltd., one of China's largest online travel sites, creating a new line called SkySea Cruises that will begin operations with one ship, the Golden Era, out of Shanghai beginning in May.
Read original article