China National Tourism Administration (CNTA) announced on December 3 that the number of outbound trips made by Chinese had surpassed the 100 million mark by November 2014.
Statistics show that 89.5% of the outbound trips made by Chinese travelers this year were to Southeast Asia, 70.4% to Hong Kong, Macau and Taiwan, 3.5% to Europe, 3% to Africa, 2.7% to the Americas, 1.1% to Oceania and 0.2% to other destinations. The six destinations receiving more than a million Chinese arrivals were Korea, Thailand, Japan, USA, Vietnam and Singapore, with Korea and Japan showing the biggest surge in Chinese travelers numbers at rate of above 40%.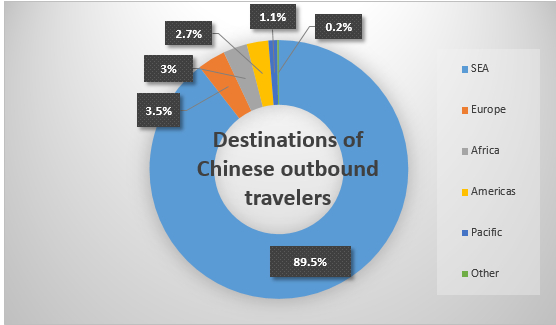 CNTA spokesperson Jilin Zhang said: "The exchange between Chinese and other nationalities has reached a whole new level thanks to the rise in the population's living standards, consumption level and desire for new cultural pursuits. China's outbound tourism grew 10.8 folds from 8.43 million trips in 1998 to over 100 million this year, marking a new milestone for China's tourism development and the progress of China's economic reforms and open policy."
More and more countries are vying to attract the enormous and rapidly growing Chinese outbound tourism market. Countries like the USA, France, UK have relaxed their visa requirements for Chinese nationals this year with visa-free zones, simplification of application time and process, lowering of requirements and lengthening of validity duration.
Additionally Chinese travelers abroad are no longer satisfied with just sightseeing. In response, Sweden's Ministry of Tourism launched a "light experience" campaign in 2015 for Chinese visitors that enables them to experience authentic local lifestyle through interactive activities in some of the most traditional Swedish resorts.(Translation by David)