The findings come as 83% of corporate travel professionals are told to deliver deeper savings from compliance and three-quarters to cut costs with negotiated discounts.

The results, which represent the views of 82 of the region's top corporate travel brands, offer five action points to streamline processing, while maximising policy compliance and control.

#1: Consolidating fragmented content
Travel management companies (TMCs) and corporate travel agencies (CTAs) are increasingly frustrated with the challenges in aligning content from multiple sources into a single, coherent itinerary. This is compounded when plans change and they need to make multiple adjustments.

An aggravating factor also lies in the 'background noise' of online competitors pitching tactical travel offers for different pieces. 87% point to B2C sites offering lower fares and rates to their clients as a major distraction, encouraging travellers to go off policy.

Robert Bailey, President & CEO of Abacus, believes the solution lies in bringing more of the elements in the itinerary together, presenting the best options regardless of channel, within a single retail platform: "Technology can aggregate disparate content to offer new forms of fixed and dynamic packaging. It will ensure TMCs and CTAs manage more of the clients' business, with wider sourcing countering increased competition online."

#2: Including airline ancillaries
Over half (53%) of the respondents indicated that they were witnessing an increase in corporate travel spend on ancillaries, with around the same number now expected to 'track, manage, negotiate, as well as enforce policies on ancillary fees for their clients.'

Most requests are for common-place checked bags, preferred seating and lounge passes. In fact, over 70% of corporate travel professionals surveyed noted higher demand for pre-selected seats.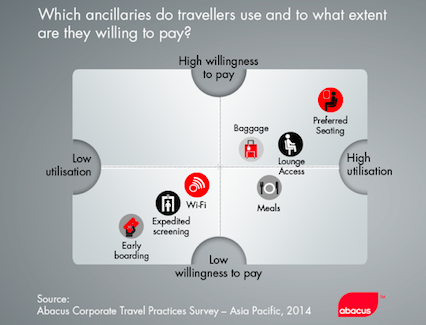 However, more options like paid meals and WIFI look imminent. This will require that TMCs and CTAs detail the new ancillary options in their clients' travel policies, as well as capture the choices made for pre-trip approval and post-trip expense reconciliation, all as part of the workflow.

"As more ancillaries are introduced, it is vital that their processing then reveals the full cost of each flight, not just the price of an unbundled basic seat, especially with so many corporate travel policies requiring the choice of lowest available fare," added Bailey.

#3: Enabling self-service
While the wider market is subject to myriad new and alternative booking platforms, a third of the TMCs and CTAs surveyed still have clients that resist self-service technology. This is despite the potential for corporate booking tools (CBTs) to channel the otherwise 'rogue' searches into compliant content and safe transactions.

Those from Southeast Asia cited travellers' preference to talk to their agents, while in North Asia travel arranger resistance was more the cause of poor uptake. Training, or the lack of it, was also allocated some of the blame. Bailey explained, "Evidence has shown that where CBTs are adopted, their use expands exponentially. We have to get that initial traction to help the culture change."

#4: Deploying a mobile tool
TMCs and CTAs were also proving slower in leveraging what has become a permanent shift to mobile. This is despite it serving as a direct customer channel.

Inaction also poses risks. "As mobile penetration increases, non-compliant rogue booking behavior is favouring other OTAs and LCC smartphone apps," he said. "These present an even greater out of channel compliance issue. We have to address the mobile opportunity in managed travel more aggressively and with a positive proposition."

#5: Automating expense management
Not only is automating expenses a growing challenge for TMCs and CTAs – four in ten indicated that their clients are putting 15% more of their travel budgets into secondary expenses – but the nature of the expenditure is changing. 53% of respondents reported airline ancillaries and ground transportation as the two fastest moving, assuming a much greater share this year.

44% of TMCs and CTAs in the survey are currently working with their clients to capture and manage secondary expenses, but the rest have yet to address it. However, most recognise that provision should be part of their value proposition, as data on expenses can effectively serve to identify where a policy can be reworked to meet specific client KPIs.

"Expense management should now be integral to the TMC pitch, especially when it comes to attracting global accounts," concluded Bailey.