ReviewPro has launched the Revenue Optimizer to help hoteliers increase hotel revenue by acting on insights from the social web.
Developed in collaboration with Meliá Hotels International, ReviewPro's Revenue Optimizer module allows hotels to compare their daily rates (ADR), occupancy, revenue per available room (RevPAR), and Global Review Index™ (GRI) with guest satisfaction scores at competitor hotels to identify opportunities and actions required to maximize guest satisfaction and revenue growth.
Recently, the direct impact of online reputation on hotel revenue was proven in a landmark study by Cornell University's Center for Hospitality Research. The study, which combined ReviewPro's Global Review Index™ with pricing data from STR, demonstrated that for each 1‐percent increase in the GRI, hotels experience an ADR increase of up to 0.89%, an occupancy increase of up to 0.54% and a RevPAR increase of up to 1.42%.
After the results of this study, and based on the success that clients such as Meliá Hotels International have had in leveraging online reputation analytics to maximize revenue, ReviewPro developed Revenue Optimizer to allow any hotel to measure and determine which aspects of its service, operations or product need to be improved to increase not only their customer satisfaction indexes, but also their revenue performance. This module also allows hotel groups to visualize all of their properties in the following quadrants, based upon each hotel's level of revenue optimization: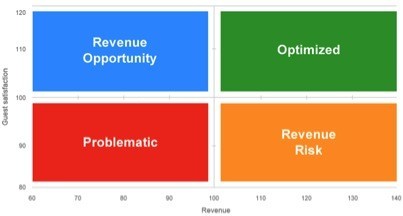 According to Sara Ranghi, Hotels Project Management and Brand Integrity Director at Meliá Hotels International, "Integrating the valuable feedback that our customers are giving us online in our organization has been a long‐standing priority for our chain, and working with ReviewPro was a key success factor for us on this. The joint development of the Revenue Optimizer expands our capabilities exponentially in this respect, since it automates and reduces to just a few clicks a comparison between revenue and online reputation which has proven to be an invaluable source of improvements in the management of our hotels and our pricing policy, among other areas."
RJ Friedlander, CEO of ReviewPro, said, "Meliá Hotels International has pioneered the integration of customer satisfaction data provided by our Global Review Index™ in their processes to maximize revenue with extraordinary results. With the launch of Revenue Optimizer, revenue managers at hotel groups of any size can benefit from this customer intelligence, make better decisions and maximize their revenue by being better prepared to react to what guests are saying about their hotel experiences, and analyzing what customers say about their experience both in their hotel and in those of its direct competitors."