A San Francisco tour operator, which is dependent on search engine marketing to attract clients, sued Groupon, alleging false advertising, or "bait and switch," in its Google Adwords tactics.
The civil lawsuit was filed in U.S. District Court in the Northern District of California March 17 by San Francisco Comprehensive Tours, which does business as San Francisco Shuttle Toursand Wine Country Tour Shuttle.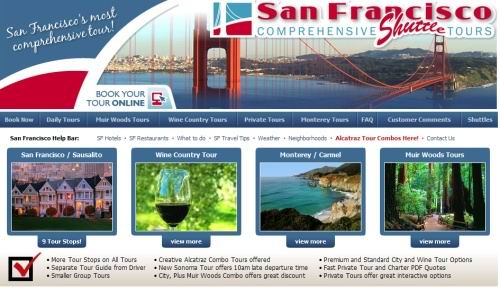 The tour operator, in business since 2005, offers bus and walking tours of San Francisco, John Muir Woods and the vineyards of northern California, and even features a ferry/bay cruise to Sausalito.
Comprehensive tours alleges that in the fall of 2010 Groupon began buying Google AdWords for "San Francisco Tours," "Alcatraz Tours" and "Napa Wine Tours," promising up to 90% discounts, but when users clicked on these sponsored ads and navigated to the Groupon website, they'd find, with a handful of exceptions, that no such tours were being offered.
So, for example, the following image of an exhibit in the suit shows Groupon with the top Google AdWords result for "san francisco tours" at 90% off, yet Groupon wasn't offering tours of the city:
Read the full story at:http://www.tnooz.com/2011/03/25/news/tour-operator-sues-groupon-alleging-false-advertising-in-google-adwords/