Some lodging websites such as iStopOver and Airbnb let you rent rooms in homes or apartments and live like a local, but HomeAway takes a different marketing angle — with HomeAway you can vacation like an Obama.
President Obama and family are expected to head to Hawaii in the next couple of days and stay for the third consecutive year in Kailua, Hawaii, at a luxurious, five-bedroom, five-bathroom 4551-square-foot estate listed on HomeAway.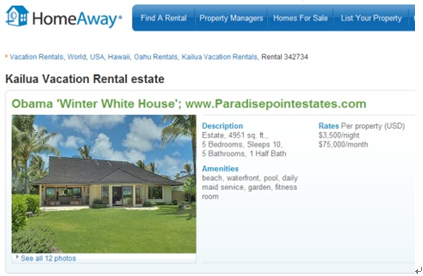 There are lots of glam-photos to go with the HomeAway listing and you can click to contact the owner and send an availability request through an online form if you want to stay there in 2011.
Read the full story at:http://www.tnooz.com/2010/12/22/news/homeaway-lets-you-vacation-like-an-obama/