Nice idea from VisitBritain using social media and location check-ins to attract people to a global competition running through its Facebook page.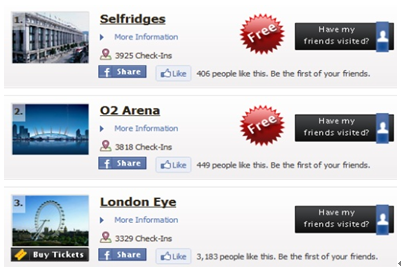 Using its popular Love UK Facebook page (close to 50,000 fans and counting), VisitBritain is asking fans to check-in using Facebook Places at two of any one of the 300 tourism spots around the country tagged in the system.
Once a user has completed the task they are automatically entered into a draw to win a holiday worth £2,000 and £1,000 worth of shopping vouchers.
Read the full story at:http://www.tnooz.com/2010/12/23/news/visitbritain-launches-check-in-game-through-facebook-places/