Data from STR Global shows that the Shanghai World Expo and the 2008 Olympic Games had similar impacts on Shanghai and Beijing, according to data from STR Global, the leading provider of market data to the world`s hotel industry.
In year-to-date October 2010 results, Shanghai reported revenue per available room of CNY579, compared to Beijing's RevPAR (CNY604) in year-to-date October 2008 results.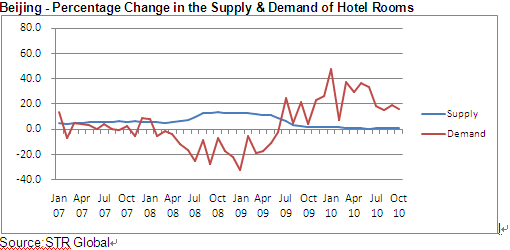 The Beijing Olympics in August 2008 saw impressive RevPAR results of CNY1,574, which helped deliver an average annual RevPAR of CNY555. The post-Olympics phase saw actual RevPAR decline for 15 consecutive months (September 2008 to November 2009) in line with the world economic crisis and the flood of new guestrooms built for the games.
Beijing's year-to-date 2010 RevPAR growth (+30 percent) looks much healthier, but is partly a result of the low base year of 2009. Actual RevPAR is still well below that of pre-crisis times. Beijing's RevPAR for year-to-date October 2010 stands at CNY399, 32 percent lower than the CNY589 recorded for the same period in 2007. This reflects the growth of supply, which came to the market in preparation of the Olympics (see graph above). This development of room stock continued to have a lasting effect on the market after the games, with the rate of supply growth year-on-year continuing at more than 10 percent for each of the 10 months of August 2008 to May 2009. However, the recent strong growth in demand should help absorb this supply.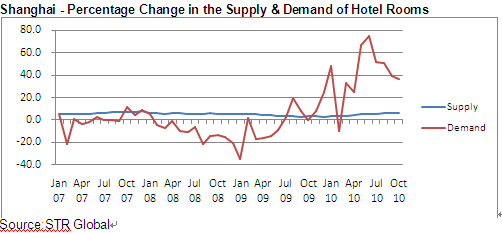 In Shanghai, RevPAR was in year-over-year decline for 34 months of the preceding 40 months before the Expo opened in May 2010. This included a period of 22 consecutive months of decline from February 2008 to November 2009. The falling annual RevPAR for the last three years reflects this: CNY638 in 2007; CNY507 in 2008; and CNY 362 in 2009. At the start of the Expo, the year-on-year increase in RevPAR for both May and June 2010 was more than 100 percent,102.9 percent and 113 percent, respectively.
As can be seen in the graph above, the introduction of new room stock to Shanghai has not been as dramatic as in Beijing. In Shanghai, the rate of growth in supply has not grown much above 6 percent year-on-year, compared with Beijing's over 10 percent.
"Given the more gradual introduction of new supply into Shanghai and the six-month long period of the Expo, it will be interesting to see the effect on hotel performance over the next 12 months," commented Jonas Ogren, Area Director – Asia for STR Global. "Two factors will be important. Firstly the length of the "tail", or the period for which supply will continue to be added above replacement levels. Secondly, as in Beijing, the sustainability of the current growth in demand will be an important factor in the future performance of the Shanghai market."