Asia's international air capacity recovery has largely been a mixed bag due to the varying timelines for reopening across the region. So where are we seeing the most, and the least, recovery? And have there been any surprises so far?
China, unsurprisingly given its complicated and recent reopening, is not keeping pace with its Asian peers, at just 50% of 2019 international air capacity in August 2023. But, considering it was at 13% in January 2022, it has been ramping up steadily.
Once more, there is a clear trend toward international routes seeing higher levels of recovery: transit hubs, namely the UAE (-13% vs Aug-2019), Singapore (-22%) and Hong Kong (-29%). For capacity to these destinations, national flagship carriers are taking the majority share of the routes.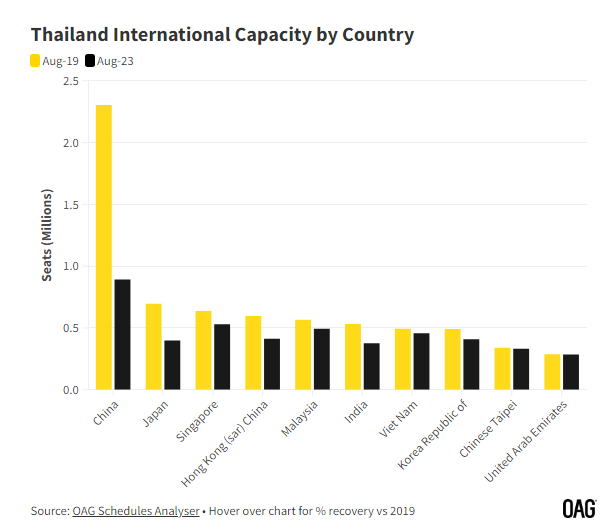 The low recovery rate of air capacity between China and Thailand explains Thailand's lower than average international seat capacity recovery, -31% vs August 2019. In August 2019, China accounted for the lion's share of all of Thailand's international seats at 24%, totalling 2.3 million seats. That's almost four times the second largest international route by capacity, Singapore, at 638k seats.
But it remains troubling that recovery for this particular route from China seems to be ramping up more slowly in comparison to other Asian destinations. Thailand is also seeing low levels of recovery from Japan (-43%) and its latest desired source market, India, is lagging at -29%, too.
Read original article