With Qatar soon to host to the FIFA World Cup, the big three Middle Eastern hubs, Doha, Dubai and Abu Dhabi, are all angling to take advantage of the anticipated traffic to the region.
But while sporting events attract attention for the short-term burst of new flights, what are the underlying trends, and has recovery from the pandemic brought about any substantial changes to the networks at these airports?
Dubai leads recovery
Doha, Dubai and Abu Dhabi, have all seen a fair recovery in comparison to their 2019 seat capacity.

Dubai, the largest airport of the three, has just edged out Doha to have the highest level of recovery of the three airports in September 2022 operating at 86% of 2019 capacity levels with 3.9 million seats; Doha is at 85% of 2019 capacity with 1.9 million seats, while Abu Dhabi has recovered to 77% of its September 2019 capacity, with a much more modest 0.9 million seats.
However, when it comes to the number of destinations served by their networks, all three airports have either reached their previous 2019 levels or surpassed them.
Doha was connected to 161 destinations in September 2022 vs 159 in September 2019, Dubai 222 destinations vs 223, and Abu Dhabi has fast-tracked its destinations from 86 in September 2019 to 105 in September 2022.
LCCs increase their share at Dubai, Abu Dhabi
When we look at the split between low-cost carriers (LCCs) and mainline airlines, Doha has maintained its 95% mainline airline share in September 2022, whilst Dubai has seen LCCs gain share from 17% to 25% in September 2022 with notable increases from Flydubai (+27% vs 2019 capacity) and IndiGo (+6%). Whilst Abu Dhabi's LCCs - with the launch of Air Arabia Abu Dhabi and Wizz Air Abu Dhabi in 2020 and 2021 - have experienced a much more significant gain, from 7% to 25%.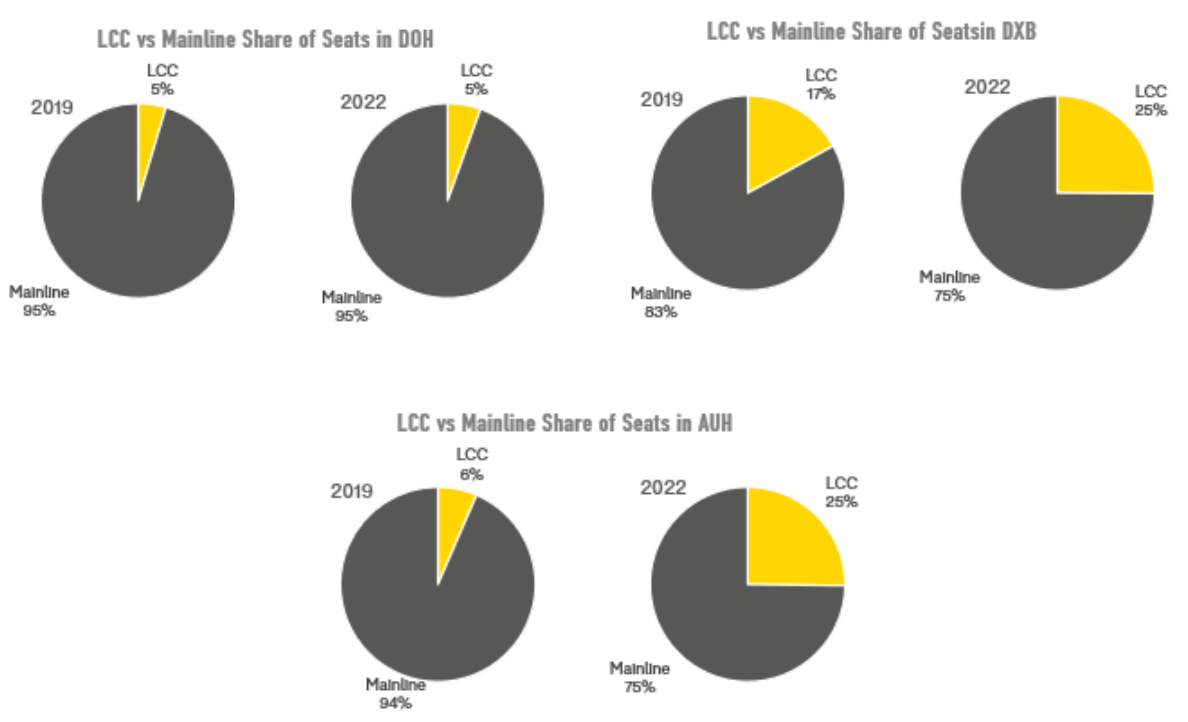 Big 3 airlines recovering capacity but losing share
Of course, we can't look at these three main hubs without having a quick look at how the three dominant carriers are recovering, with each airline commanding such a large share of total seats at each hub.
Qatar Airways is operating at 83% of its 2019 capacity from Doha, Emirates 75% of its 2019 capacity from Dubai and Etihad Airways at a lower 59% of its capacity from Abu Dhabi, thanks to its restructuring program which it had started even prior to the pandemic hitting.
At Dubai, Emirates' share of total seats dropped from 67% in September 2019 to 58% in September 2022, whilst Flydubai's share grew from 11% to 17%.
Etihad also saw a drop in total seat share from 84% in 2019 to 65% in 2022, losing ground to AirArabia Abu Dhabi and Wizz Air Abu Dhabi.
It's clear that while the legacy carriers have built these hubs, largely on the back of long haul international connectivity, they have paved the way for LCCs to now exploit a more established regional market.
In some instances they have a symbiotic relationship with the legacy airlines, providing feed traffic at a lower cost to long haul flights and expanding the regional route network. Flydubai and Emirates are an example. For Wizz Air, the move into the Middle East is a logical way to grow, having expanded in Eastern Europe and needing new markets to grow.
Read original article