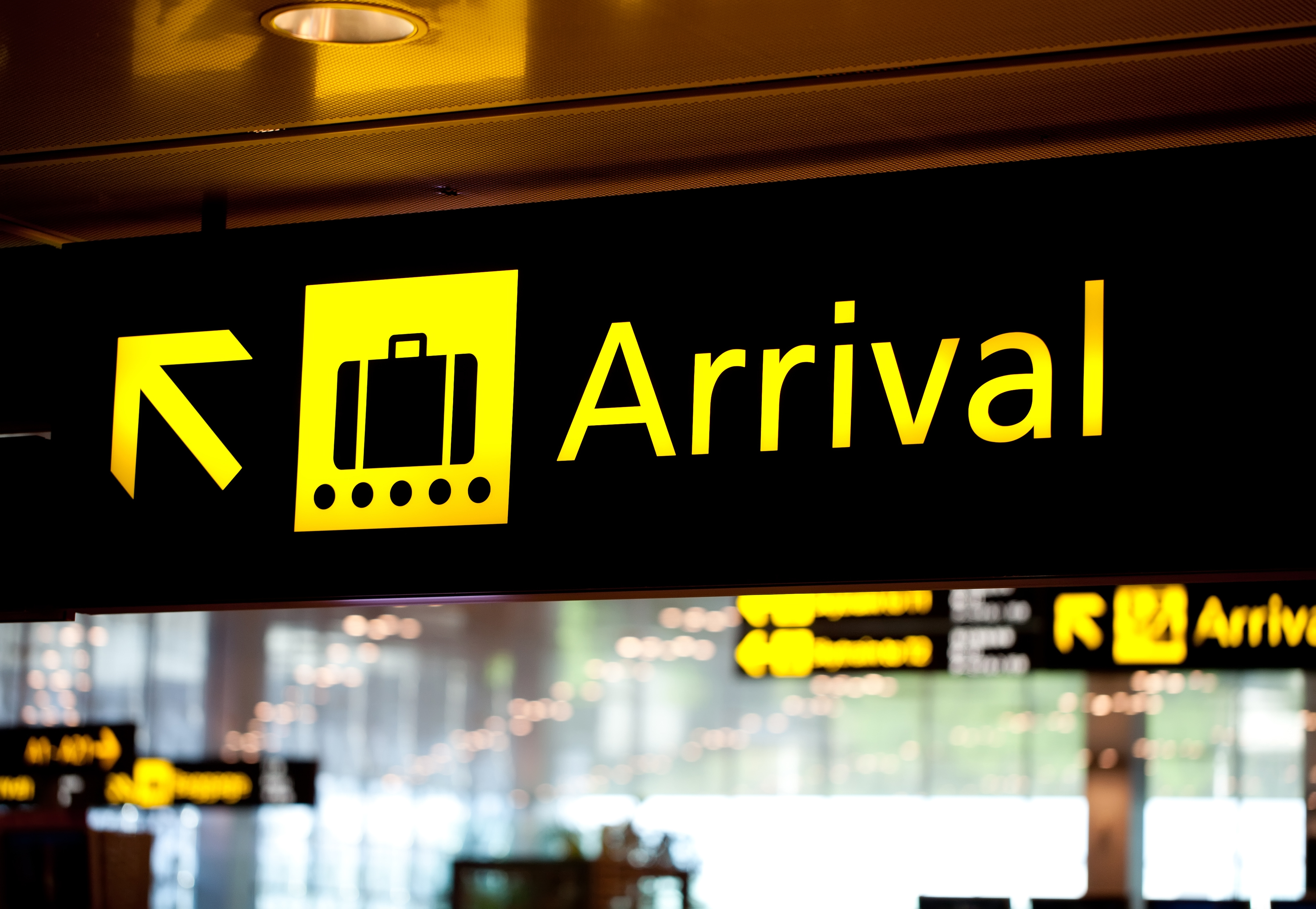 After more than 600 days the world's most lucrative international market reopens, with full access for travellers flying between the United States and its major trading partners in Europe finally open. It may be symbolic of the industry in recovery.
Global capacity continues to fall week on week despite the optimism that we are seeing around the globe with markets reopening and airlines either bringing back new routes or launching new services. At 75.4 million seats this week shows a decline of some 2.5 million on the previous week and indeed some 6 million seats have been removed by airlines through to the end of November; some of those may have been airlines just adjusting planned capacity but with 30% fewer seats than two years ago the recovery has some way to go yet.
Chart 1 – Scheduled Airline Capacity by Month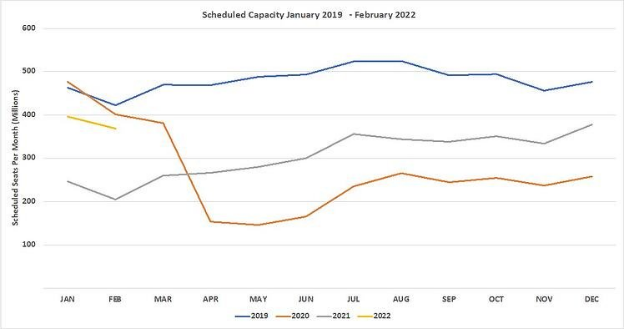 Source: OAG
Continued Covid outbreaks in China are reflected in the North East Asia region reporting a near 11% drop in seats week on week and whilst we know that capacity in China can bounce back as quickly as it disappears heading into the Winter season it is an alarming trend. More significantly such cuts in domestic capacity push back any recovery in international capacity further and for the surrounding markets to China that is a real issue as we will soon head into the first quarter of 2022.
Both North America and Western Europe report declines in capacity which may seem slightly odd in the context of the transatlantic market reopening. However, many legacy carriers had already expanded capacity ahead of the opening and only the UK market shows any significant capacity growth to North America this week with British Airways and Virgin Atlantic both "launching" their first fully commercial flights off the Heathrow runways at the same time, such sweet symbolism.
Table 1 – Scheduled Airline Capacity by Region



Source: OAG
More positively, we can at last welcome back Australia to the global top twenty with an 8% week on week increase and increasing optimism around international travel from New South Wales and Victoria. Other states in Australia continue to appear more cautious with Western Australia announcing plans to reopen "sometime in the new year" such vague statements not particularly helping airlines plan or travellers' book with confidence; still it will satisfy someone!
All the major Western European markets report reductions in weekly capacity as the stragglers from the half-term holiday are now all safely back. At this time of year many European carriers take a "deep breath and relax" having operationally survived busy summer season; this year they just relax and realise they have managed to survive; well done guys….just the Winter season to get through now.
Table 2 - Scheduled Capacity, Top 20 Country Markets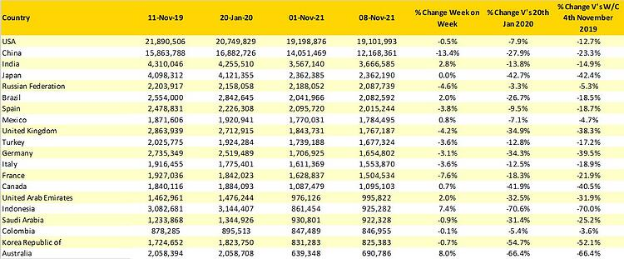 Source: OAG
Amongst the Chinese carriers, China Eastern currently appear to be the exception to the rule with "only" a 5% capacity cut this week whilst many of their peers are cutting capacity by much larger amounts. China Southern for instance have dropped nearly half a million seats this week and Air China scaled back their capacity by 15% all of which creates more distance from the major US carriers who fill the top four in the charts.
Table 3 – Top 20 Scheduled Airlines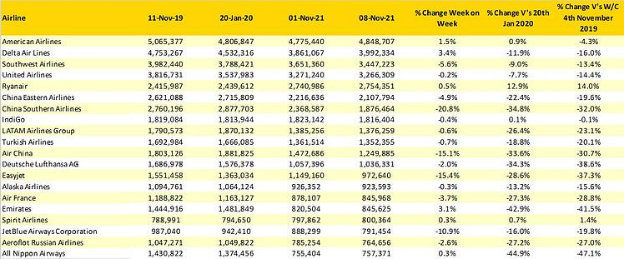 Source: OAG