Some 200 holidaymakers have been left out of pocket after Wincastle Travel shuttered.
The travel agency, after 35 years in the business, has cited the pandemic as the reason for the closing down.
A notice posted on the entrance of one of their branches wrote that they have ceased operations on April 23.
"The company's management deeply regrets and apologized for the decision," it wrote.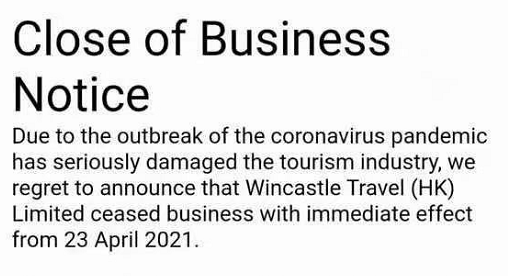 According to the Travel Industry Council, about 200 customers of the firm were affected, losing around HK$4 million.
It is understood that most of the affected customers having receipts with levy stamps from the travel agency can apply for the ex gratia payment from the travel industry compensation fund management board.
Under the fund, travelers may claim up to 90 percent of the outbound fare lost if a licensed travel agency shutters.
Read original article