Hotel group IHG's revenues from its fee business and owned, leased and managed lease hotels fell by 52 percent to US$992 million during the year to 31 December, with CEO Keith Barr calling 2020 "the most challenging year in our history".
At an operating level, the group's profits on these hotels fell to US$219 million, from a profit of U$865 million in 2019, largely as a result of impairments to owned and leased hotels during the first half of 2020.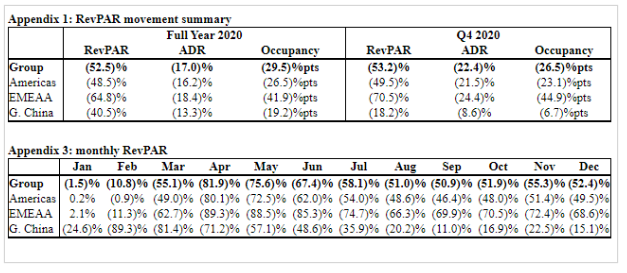 The group said that full year RevPAR was down 52.5 percent but variation by region reflected local market Covid-19 restrictions and recovery pace; the recovery in Greater China was most advanced with Q4 RevPAR of -18.2 percent, against -49.5 percent in the Americas and -70.5 percent in EMEAA.
IHG's global estate now stands at 886,000 rooms (5,964 hotels), after it opened 39,000 rooms (285 hotels) during the year. The group claims an 11 percent share of the industry pipeline against a 4 percent market share.
Read original article