Macau casino stocks soared on Tuesday on excitement that mainland China will begin reissuing tourist visas after the coronavirus left baccarat tables nearly vacant and slot machines untouched, causing a 90 per cent plunge in gaming revenue.
Sands China surged nearly 10 per cent – its most in 20 months, according to Bloomberg data.
Galaxy Entertainment closed with a 5.5 per cent gain, while MGM China, Wynn Macau and SJM Holdings each climbed about 5 per cent.
Neighbouring city Zhuhai will be the first mainland Chinese city to be issued with tourist visas beginning on Wednesday, the Macau government announced late on Monday, in what Jefferies called "a big step" in what is expected to be a phased-in return of the tourist and group visas.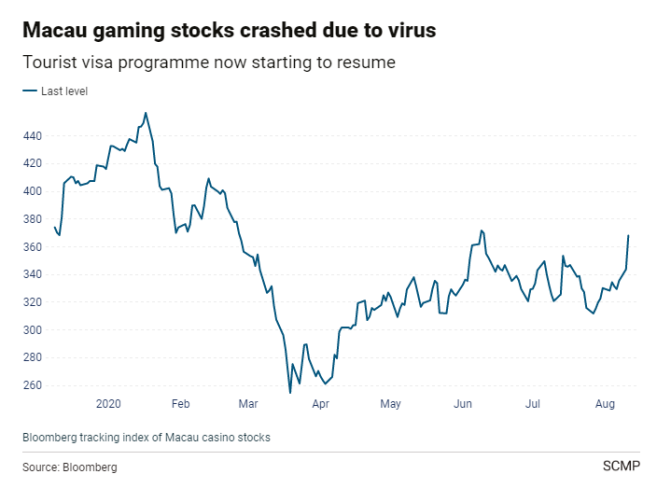 Macau's secretary for Social Affairs and Culture said the city is working with mainland authorities to resume the full visa programme, but warned the plan could be disrupted if virus transmissions return. The former Portuguese colony is the only place in China where casino gambling is permitted.
Galaxy Entertainment is in an especially strong position, contends Bloomberg senior analyst Angela Hanlee.
"Galaxy Macau's broad market positioning allows it to switch between focusing on VIP clients during upswings and a more defensive, mass-gaming approach during downturns, making it the best-positioned operator to capitalise on any Macau tourism recovery. A market-share grab at rivals' expense could come on property upgrades and amenities," she wrote in a new note.
The resumption of visas will not have a big impact immediately on gaming revenue in August, said Daiwa Capital Markets analysts Andrew Chung and Terry Ng, adding they expect it to continue to be down 90 per cent.
Read original article