Cathay Pacific will undergo a HK$40 billion (US$5.2 billion) capital restructuring exercise as the Hong Kong government takes the lead in a bailout package worth nearly HK$30 billion in loans and a 6.08% stake. It is the first time the government has directly injected money into a private company.
The carrier will issue new shares as part of the plan which will see the authorities taking up two "observer" boardroom seats in an unprecedented shake-up that will empower it to have a direct say in how the airline is run, sources have told the Post.
Emerging as a "white knight", the government will offer a loan to be paid back in the future and, more controversially, it will take a stake in the airline without seeking full boardroom status. Instead, it will have the "two observers" on the board, industry sources revealed.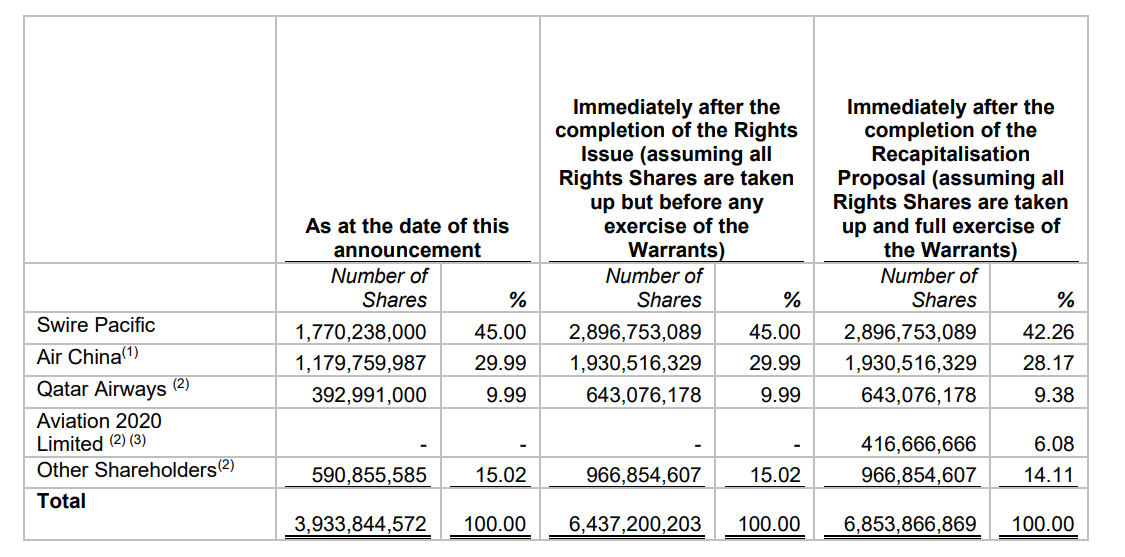 After the recapitalization, Aviation 2020, a company wholly owned by the Financial Secretary Incorporated will take a 6.08% stake, while Swire Pacific will hold a 42.26% stake, Air China will own 28.17% and Qatar Airways will have 9.38%.
Sources said the government decided to offer the rescue package given the importance of maintaining Hong Kong's status as a regional aviation hub, and taking into account the hard-earned aviation rights, and important routes and flights, Cathay enjoyed and provided to residents and international passengers alike.
Cathay has control of approximately 50% of runway slots at Hong Kong International Airport and has grown to become one of Asia's biggest international airlines and the fifth largest air cargo carrier globally. It is now the only local airline to offer a full range of long-haul flights. It has grown to operate 238 aircraft and carried 35.2 million passengers last year. Half of the airline's HK$107 billion revenue last year came from Hong Kong and mainland China.
In the first four months of 2020, the number of passengers carried by the Cathay Pacific Group dropped by 64.4% against a 49.9% decrease in capacity and a 59.1% decrease in revenue passenger kilometers, as compared to the same period in 2019. Although it is the Cathay Pacific Group's intention to increase slightly its passenger flight capacity from 3% in May to 5% in June of total capacity, this is still subject to a potential relaxation in government health measures.
Cathay Pacific's management team has been active and agile in responding to the extremely difficult environment. Cathay Pacific has implemented a number of cash preservation measures, including but not limited to cutting passenger capacity by 97%, implementing executive pay cuts, deferring new aircraft orders and deciding on the early retirement of older aircraft, as well as implementing a voluntary special leave scheme for employees which had an uptake of 80%. Despite all these measures, the drop in passenger revenue to around only 1% of prior-year levels has meant that Cathay Pacific has been losing cash at a rate of HK$2.5 to 3.0 billion per month since February 2020.
Read original article