Travel data and analytics specialist Cirium rolled out its on-time performance review 2019, revealing Russian carrier Aeroflot, as the world's – and Europe's – most on-time global mainline airline with 86.68% of its flights arriving on-time. Japanese carrier All Nippon Airlines (ANA) came in second place with 86.26%. Last year's former winner, US-based Delta Air Lines took third place with 85.69%.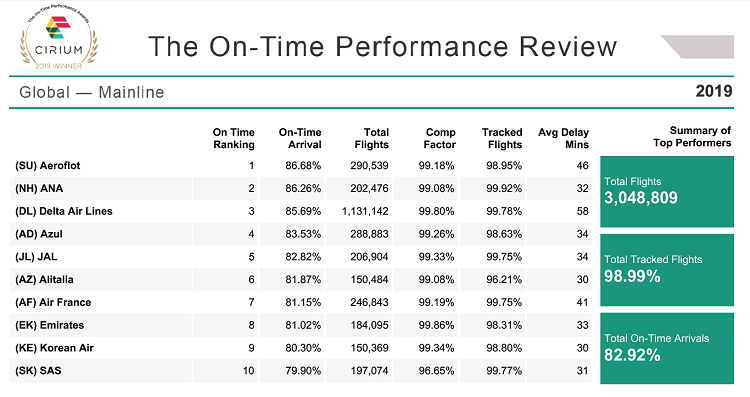 The most on-time global network airline was Latin American carrier LATAM Airlines with 86.67% of its flights arriving on-time. LATAM Airlines set the standard for most improved global networks in 2019. In 2018, LATAM Airlines ranked in tenth place in the Global Network category with an on-time performance of 79.99% and then climbed to the top of the list in 2019.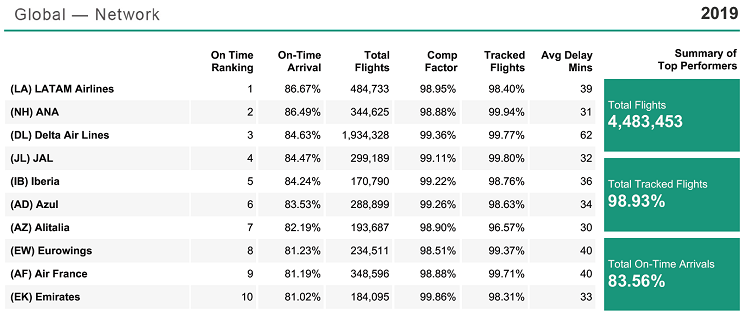 In North America, Delta Air Lines continued to demonstrate industry-leading on-time performance for the third year in a row. Delta Air Lines, the largest network carrier in the group by far, is earning business traveler loyalty with an excellent completed flight percentage of 99.36% across its network–a result of the success of its program to greatly reduce cancellations.
ANA continued its streak of industry-leading operational performances by ranking first among Asia Pacific Mainline carriers in 2019. ANA had the highest on-time performance numbers across its Asia Pacific network in 2019 for the second year in a row with an on-time performance of 86.49%, increasing from 85.25% in 2018.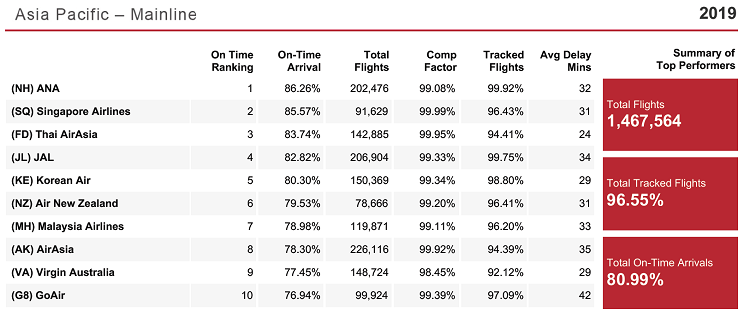 The On-Time Performance Review draws upon Cirium's expert data and analytics to track the on-time performance of airports and named Sheremetyevo International Airport (SVO) the most on-time airport globally and among large-sized airports with 95.01% on-time departures. As for medium-sized airports, Kaohsiung International Airport (KHH) with an on-time departure performance of 93.32% Koh Samui Airport (USM) was the most on-time small airport with an on-time departure performance of 95.08%.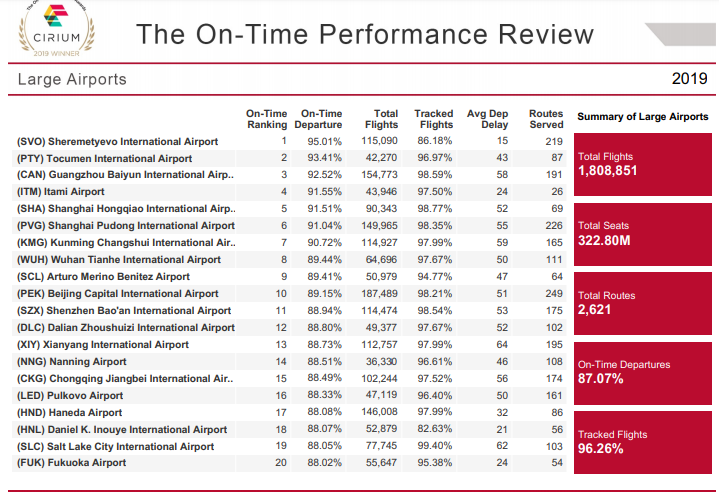 Read Original Report