South East Europe is one of the hottest parts of Europe for Chinese visitors right now. In many ways this should be no surprise as this corner of Europe has everything the Chinese visitor – and especially millennials and Gen Z travelers – wants when venturing overseas. There's culture, history, nature, folklore, festivals as well as gastronomy. According to OAG the number of air passenger traveling from China in the first five months of this year were 16% up on the same period in 2018. Some of this may be attributed to travelers making a choice not to visit other long-haul destinations, most notably the US, but much of the credit goes to the countries themselves.
Unfortunately, for those wanting to travel to this corner of Europe directly from China, there are still woefully few direct air services. Hungary is the only one among the ten countries that make up this area that has a direct air service with its less-than-daily Shanghai Airlines operation between Shanghai Pudong Airport to Budapest. Even so, the arrivals by air make up a small proportion of overall visitor numbers. Navigating the various indirect ways to fly to the region may well require a somewhat more adventurous traveler and, not surprisingly, means that many visits will be tagged on to a wider trip around Europe.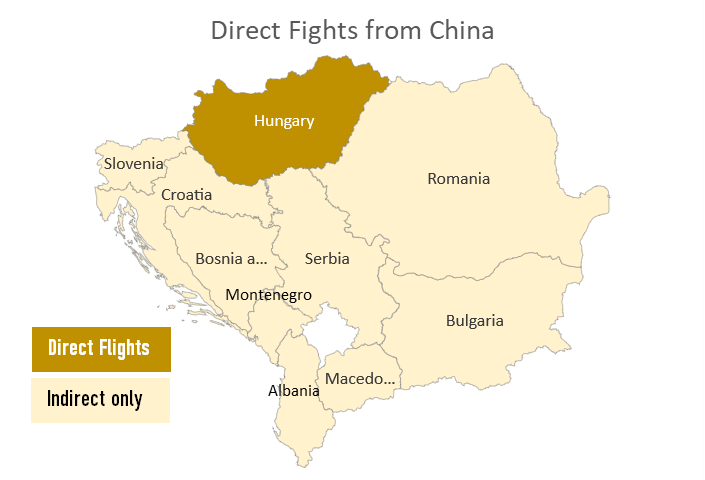 For those succeeding to reaching Hungary they'll find themselves in a country where you are never far from mountains and lakes. The Danube River runs through the country from north to south, including right through the heart of the capital city of Budapest. With a history shaped by Turkish invaders and architecture reflecting the Italian renaissance there is plenty to see.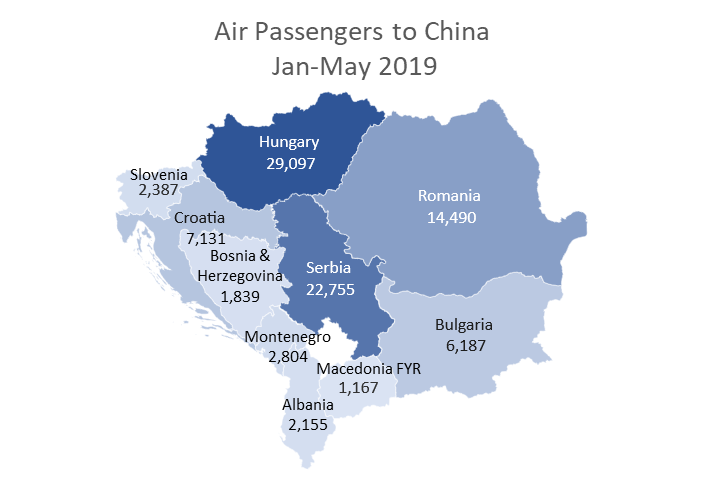 Inevitably, with its direct air services, Hungary attracts the most arrivals by air from China, but Serbia is not too far behind. It may not have the direct air services that Hungary benefits from, but Serbia has been working hard to make it easier for Chinese guests and was the first country in the region to lift visa requirements for Chinese tourists. It's two and half years now since this policy change but it seems to be working. Air traffic arrivals are up 22% in the first five months of this year. Serbia appeals to those seeking somewhere new and different from the more visited tourist sites of Western Europe.
Following Serbia in going visa-free was Bosnia and Herzegovina which lifted the visa requirements for Chinese visitors in May 2018. The result has been a large increase in Chinese tourists and an almost 50% uptake on arrivals by air. While the numbers arriving by air are still relatively small, the growth is a clear vindication of the change in visa rules and a strong signal to other countries considering a similar move. Sarajevo, the capital, is the focus of inbound tourism with its range of history and culture.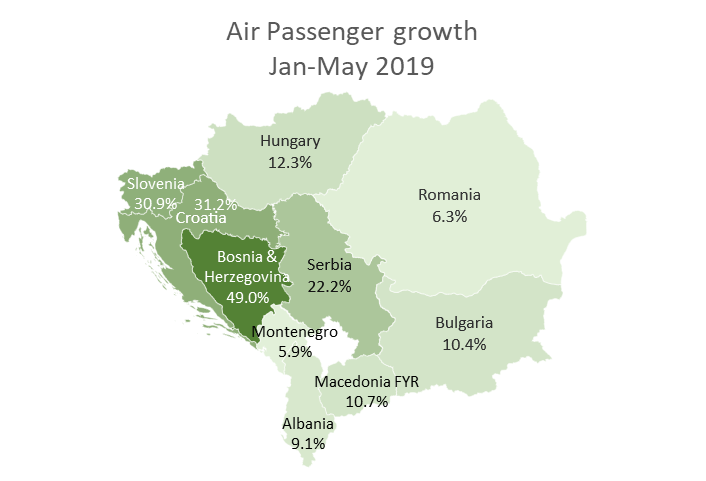 While not visa-free, both Hungary and Slovenia benefit from European Union membership. Therefore, visitors from China can apply for a Schengen visa which allows them to travel for up to 90 days anywhere within in the Schengen area. That makes visiting easier as part of a broader itinerary but even Slovenia has seen arrivals by air grow by almost a third.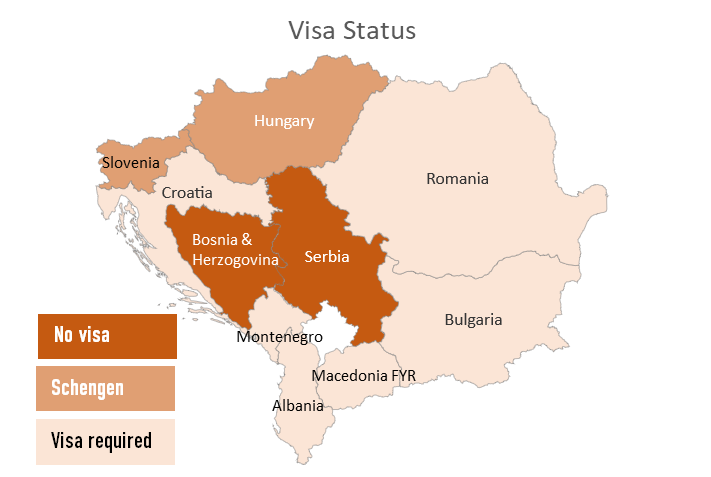 This part of South East Europe spans an area the size of Qinghai and contains a huge variety of scenery and tourist attractions. You may not see so many Europeans in Qinghai Province yet but there are certainly growing numbers of Chinese tourists coming to this part of Europe. While it's still relatively unknown, and access may not be as easy as many would like, those wanting to be the first among their friends to visit somewhere should be looking at the options to explore this less-known corner of Europe.