China's love affair with L.A.is well know. With half of all US residents of Chinese origin living in California it's no surprise that travel between the 'city of angels' and China is as strong as ever. More than that, it appears that the popularity of Los Angeles in particular is gaining ground as both an origin and destination for travel to and from China as well as a gateway to the rest of the US.
Strong Growth in China to Los Angeles Traffic
Numbers for those travelling to Los Angeles International Airport (LAX) from China in the year to March 2019, the most recent 12-month period which OAG's comprehensive Traffic Analyser database has data for, shows that passenger numbers were up substantially, with 9.5% more bookings than in the previous year.
The LAX Gateway
With nearly 900,000 passengers in each direction, the direct market to LAX is a sizeable one. There are seven times the number of passengers from China ending their air journey in Los Angeles for each one who goes on to connect at LAX to somewhere else in the US. But the role of LAX as a gateway from China is gaining importance.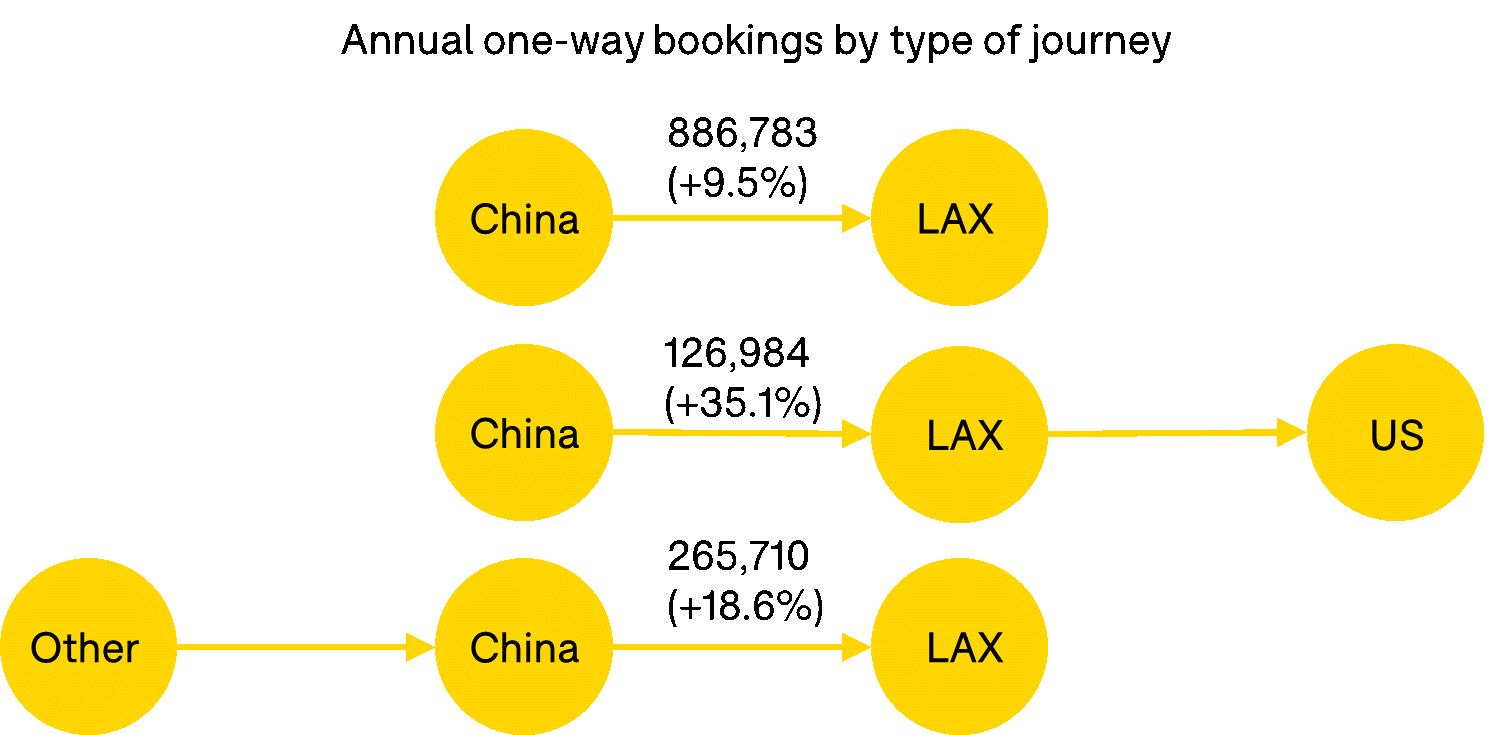 In the year to March 2019, the number of passengers travelling from China to the US via LAX rose by a massive 35% to 127,000, up from 97,000 the previous year.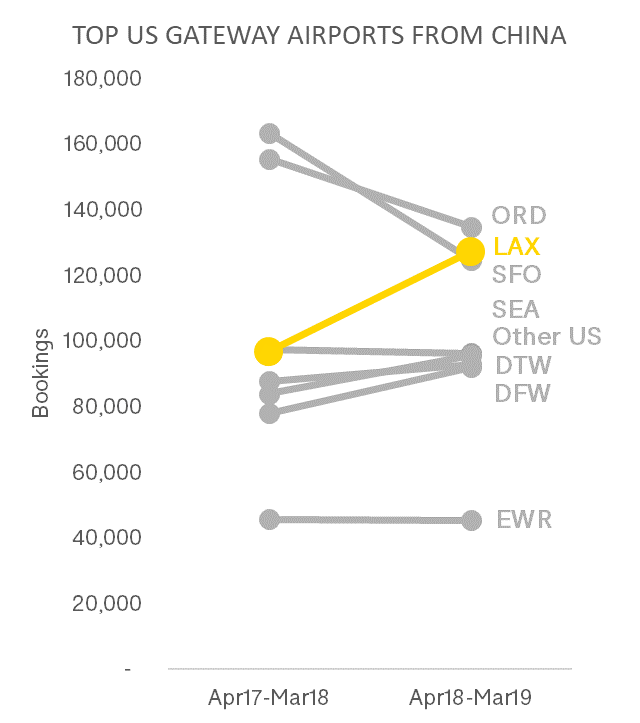 No other US gateway airport has seen such a jump in traffic to and from China. In contrast, the other largest gateway airports have seen numbers fall. LAX now stands as the second most important gateway in the US for China, just behind Chicago O'Hare International Airport (ORD) and ahead of .San Francisco International Airport (SFO).
For those passengers from China who choose to connect at LAX, where are they going? The number one destination in the US is Las Vegas (LAS) which accounts for 9% of all onward connections and has seen passenger volumes rise by 28% over a year.
Next is Boston (BOS) which has 50% more passengers flying onward Denver (DEN, the 6th most popular onward destination, has also seen huge growth – 46% over a year-, as has Chicago (ORD) which is ranked 7th and has seen passenger volumes increase by 52%.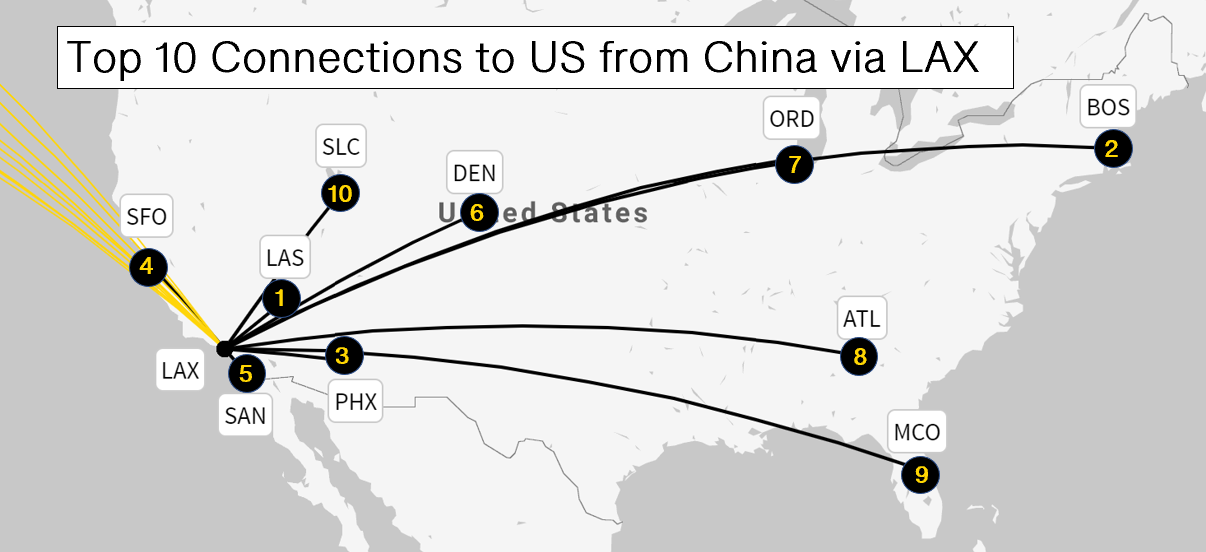 It's not surprising that traffic to LAX has increased; the airlines flying back and forth between China and the US have increased the number of flights to LAX dramatically. The 12 months to March 2019 saw 32% more flights into LAX than in the preceding year, with similar increases by both Chinese and US carriers although the Chinese airlines operate more than twice as many flights. Two new routes were started, Los Angeles to Shenyang (SHE) in the north and to Xi'an (XIY) in the north west. These are very small though, compared to the services from Shanghai (PVG), Beijing (PEK) and Guangzhou (CAN) which contribute 36%, 28% and 10% of all flights from China to LAX, respectively.
Who travels?

The OAG data points to a difference in who is travelling with a much higher proportion of bookings for travel via LAX being made in the US. Half of all connecting traffic has a US point of sale compared to just 39% for passengers stopping at LAX. Conversely, traffic to LAX is predominantly Chinese point of sale.
It's not clear what accounts for this but it will be affected by the different motivations for travel. Are they people travelling to China from the US for work of leisure? Or are they Chinese citizens visiting the many family and relatives who have settled in the US? Or Chinese residents in the US travelling back home? Or even some of the many Chinese students who are undertaking studies at Universities across America?
Behind China
Planes flying to LAX from China also carry passengers travelling from countries elsewhere in Asia who have chosen to connect between flights at a Chinese airport. There are an additional 266,000 of these passengers, double the size of the market connecting at LAX for inward travel in the US. The sheer size of this market demonstrates the growing importance of Chinese hub airports and Chinese airlines in connecting the world.

The biggest 'behind' country markets are Thailand, Philippines and India, which together make up almost half of all connections in China to LAX.
In conclusion, it is clear that airlines have been focusing a lot of energy on LA. It's not always apparent which comes first, extra air services or passenger demand. In this case, it's likely to be both, with airlines responding promptly to growing volumes of traffic across the Pacific as well as passengers enjoying the fruit of more capacity and competition which may be making the long flight back and forth more affordable for everyone.