It's less than three months now until the new Beijing Daxing International Airport (PKX) is due to open. The aviation world is waiting, looking forward to seeing first-hand what this new and much anticipated four-runway mega-airport will look like. Images emerging so far show a dramatic space-age building, both inside and out.
But a key question which is still unresolved is which airlines will be flying there and where will they fly to? With the airport supposedly due to open on 30th September 2019, there are still no schedules filed with OAG. The initial plan announced at the start of the year by the Civil Aviation Administration of China (CAAC) had both China Southern and China Eastern moving to Daxing but that had changed by April as airlines were clearly resisting a top-down allocation of airlines to airports.
With additional capacity coming into the Beijing airport system we speculate about which routes could see more capacity, especially those which have had the highest volumes of indirect passenger traffic until now.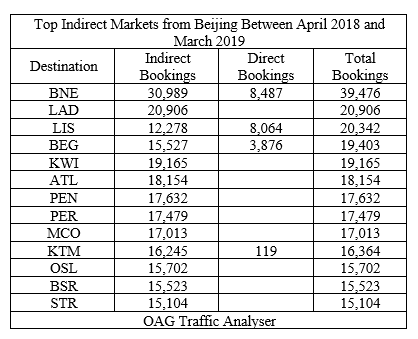 There are 13 routes which saw over 15,000 indirect bookings from Beijing in the year to March 2019; that's over 30,000 two-way passengers on each route. Sure, some of these routes have, or have had, direct services too. Brisbane was served by Air China directly until March 2019 and Lisbon was operated by Beijing Capital Airlines until October 2018. The fact that these routes were stopped shows that there is more to opening new routes than simply the size of the unserved market. However, unserved market sizes are a good starting point.
Elsewhere in Europe, Stuttgart (STR) and Hamburg (HAM), which saw just under 15,000 indirect passengers travel from Beijing, mean that Germany has two cities with large indirect traffic flows. Deeper analysis shows that only about a third of these passengers are travelling via the German hub airports at Frankfurt and Munich with many passengers choosing routings via Copenhagen, Zurich, Helsinki and Moscow – and even points further west such as Paris.
Other routes which will be on the radar for airlines include Luanda (LAD), capital of Angola, and Kuwait (KWI), which each saw around 20,000 indirect passengers over the 12-month period in one direction but have no non-stop flights today.
Kathmandu (KTM) is the geographically closest destination without direct air service to Beijing. The current bilateral agreement between the two countries is fully allocated and allows for no Nepal-based airlines but new negotiations are scheduled for July 2019 and Nepal is keen to win new routes in order to attract a significant number of Chinese visitors next year as part of the concerted Visit Nepal 2020 campaign.
Most audacious perhaps are the potential routes in North America. Both Atlanta and Orlando are within the range of a B787 from Beijing. With Atlanta the only airport in the world offering more capacity than Beijing Capital Airport at this point in time, how long will it be until there is a direct air service to connect two of the world's largest mega-hubs?