As well as more direct services from some of China's secondary cities, it seems that Chinese travellers are going further afield in search of adventure and new experiences. Analysis of OAG's Traffic Analyser data found that there are 15 countries which have seen passenger growth of more than 20% in February 2019 compared to February 2018.
Ten of these are in Europe, with the UK and UAE topping the list with growth of 39% and 28% respectively from last February to this year. The lure of the UK where visitors can see everything from Buckingham Palace to the Tower of London, and then head north to the wilds of Scotland to see castles and sample whisky in Speyside, continues to draw over 1m Chinese visitors in 2018.
Increasingly too the United Arab Emirates is drawing high spending visitors with its attractive position as a premium leisure destination offering luxury shopping malls and opulent hotels. With almost as many passengers travelling there in February 2019 as to the UK, the full year in 2018 saw over 672,000 Chinese visitors arriving in the UAE.
Eight of the Top 15 country markets however are to smaller European countries such as Switzerland, Belgium and Serbia, reflecting the growing desire by Chinese travellers to seek out new and authentic experiences off the traditional tourist trail.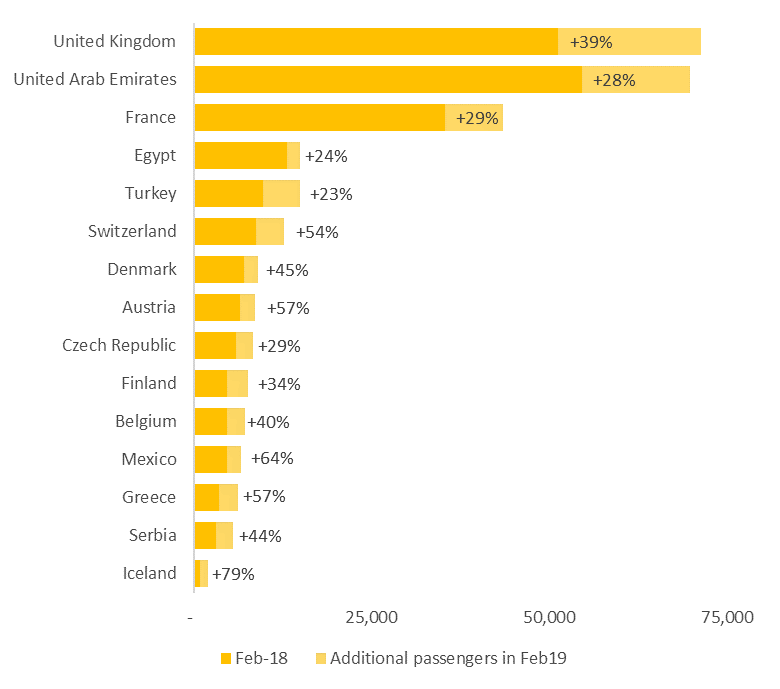 TOP 15 COUNTRIES WITH > 20% GROWTH FROM CHINA
In particular, Iceland, the smallest country market in the Top 15, has seen a 79% increase in passengers with Chinese travellers keen to travel to places with natural unspoilt beauty. The numbers are small still, at just 2,000 passengers in February 2019, and a total of nearly 16,000 in 2018 but this seems set to grow. The original land of Ice and Fire offers clean, unpolluted air and a chance to spot the rare Aurora Borealis.
Mexico is another country that has seen significant growth in Chinese passengers, with 64% more visiting this February than last. Mexico is attracting visitors interested in its cultural heritage and historical sites and in 2018, almost 95,000 passengers travelled from China to Mexico, up 26% on the previous year. Whilst they still have to fully embrace the use of WeChat as a tool to communicate with potential Chinese visitors, Visit Mexico, the country's national tourist board, has a website in Mandarin and has recently launched a new tourism campaign designed to attract Chinese tourists.
Places like the Museo del Palacio de Bellas Artes (pictured here) are a firm fixture in any visitor itinerary to Mexico City. For Chinese travellers, Mexico still has an undiscovered air, but as air services grow, it will become with the reach of many.
With just two direct services operating between Beijing and Tijuana, and Shanghai and Mexico City, many still have to travel indirectly from China to Mexico, with just 28% of passengers travelling on direct services in February 2019. If market growth at the level seen in 2018, it can't be long before we see more direct services joining up these countries.