Following a recent report which identified some key trends in Chinese High End Tourism we decided to dive a little deeper into what's behind these trends. One of these trends was increasing growth from second and third tier Chinese cities and our analysis highlights that second tier cities are growing faster than any other grouping. Chengdu in particular is seeing strong growth and a shift from indirect to direct services as more airlines operate international services.
OAG Traffic Analyser data shows for February 2019 that the rate of growth in passengers travelling from China to destinations beyond Asia was fastest from second tier cities.
Second tier cities saw international passengers grow by 25% in February 2019 when compared to the same month last year, taking the total amount of passengers to 293,000.
Whilst this is still a third of the size of the amount of passengers travelling from first tier cities, this was more than double the growth rate experienced in passengers travelling from first tier cities (Beijing, Guangzhou, Shanghai and Shenzhen) where there were 11% more passengers over the same time period.
Third tier cities saw slower growth, with passengers increasing by 6% over the same time period.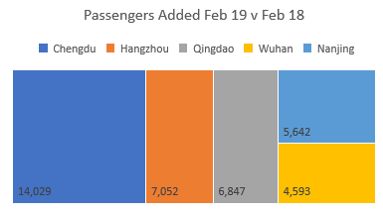 The second tier cities driving this strong growth are Chengdu, which recorded 40% more passengers in February 2019 than the previous year, with an additional 14,000 passengers taking the market size to 49,000. Hangzhou and Qingdao also saw strong growth with 36% and 38% more seats respectively. Chongqing is growing quickly too, with 52% more seats.
Chengdu: Next Stop, The World
As we saw above, Chengdu is growing fast. It has the 4th biggest increase in numbers of passengers at Chinese airports in February 2019. More people than ever before are travelling to long haul destinations from Chengdu, including Los Angeles, Moscow, Dubai and Auckland. The split of passengers having to travel indirectly has also shifted as airlines recognise the potential that second tier cities offer.
In February 2018, nearly two thirds of passengers originating in Chengdu had to travel indirectly, typically either routing through Beijing or Guangzhou before travelling onto their final destinations, but by this February, that split had changed to 50% as airlines begin to offer more direct services from Chengdu.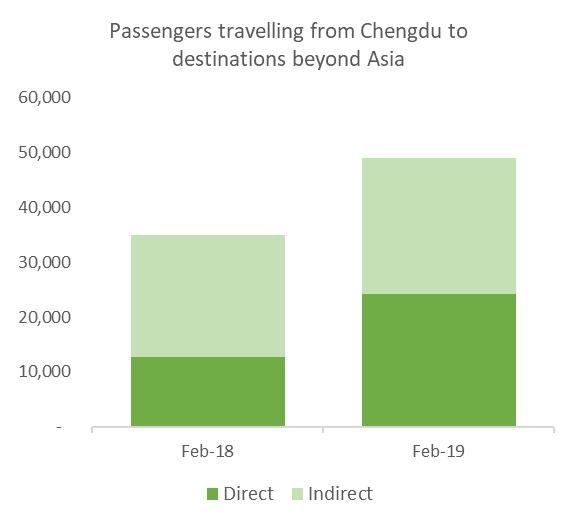 In the last year, Chengdu has secured new services (highlighted in red below) to Cairo, Copenhagen, London Heathrow, Istanbul, Rome and Tel Aviv.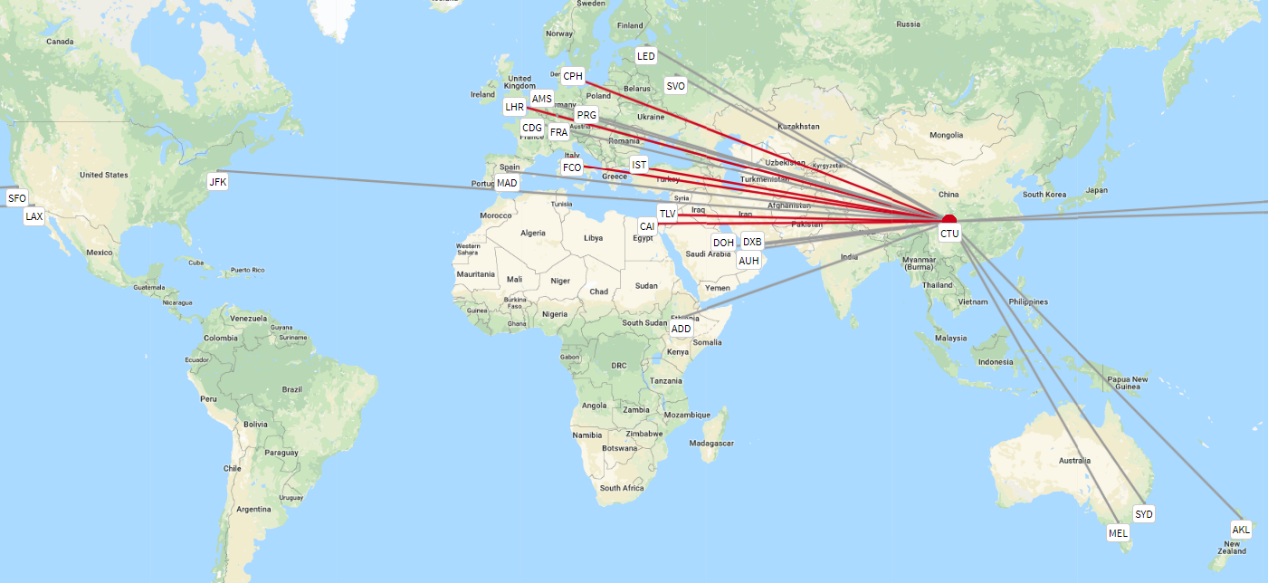 This is all great news for passengers as the opening up of second tier air service markets means more choice and competitive fares. Overall at second tier airports, the ratio of passengers travelling indirectly is still high, at 71% in February 2019, meaning Chengdu is leading the way in serving international cities directly.