The Asia Pacific region encompasses 46 countries, over 3,000 spoken languages, and 14 time zones, making it increasingly difficult to reach travelers at the right time with the right message. The top three challenges for travel marketers are driving direct bookings, achieving ROI and profitability targets for advertising investments, and targeting travelers during a specific point along their path to purchase.
To understand how travel marketers are addressing these challenges in a growing region, Sojern took a deep dive into the findings from the global State of the Industry: 2019 Report on Travel Advertising and broke them out into our 2019 Asia Pacific Report on Travel Advertising. Here are a few of the key trends we observed for the region: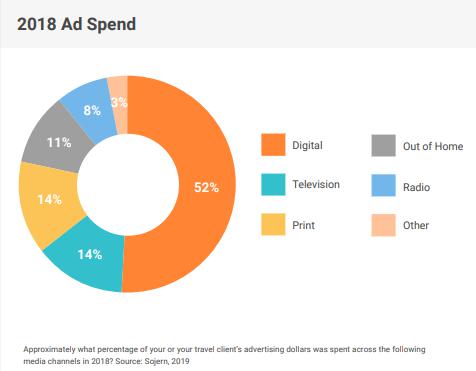 Digital advertising represents the largest portion of ad spend for Asia Pacific travel marketers in 2018 at 52%. The region had the highest spend on digital advertising, followed closely by the United States and the Middle East. And in 2019, Asia Pacific remains among the top regions when it comes to increasing digital spend, with three in four travel marketers planning to do so.
Trend #1: Travel Marketers in Asia Pacific are Finding Success on Social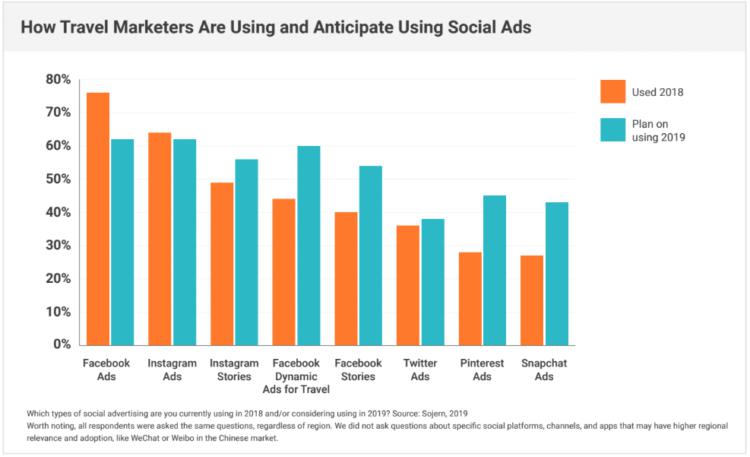 Facebook and Instagram ads continue to be of great interest to travel marketers in 2019. Asia Pacific, the United States, and the Middle East agree that Facebook and Instagram are most effective in driving reach and brand awareness, whereas travel marketers in Europe and Latin America feel that Facebook and Instagram are most effective in targeting new audiences.
Trend #2: Video is Big in Asia Pacific
Video advertising is often used higher in the funnel, during the dreaming phase, to inspire travelers. Many Asia Pacific travel marketers use video to showcase their properties and experiences in a more engaging manner—creating excitement among prospective and booked travelers.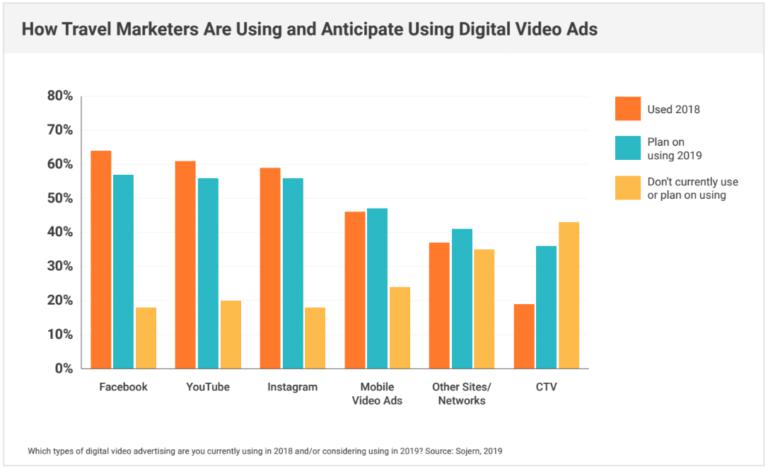 Because videos easily help tell the story of travel—and travelers are increasingly consuming information through watching online videos—Facebook, YouTube, and Instagram are the most utilized ad video platforms in the region.
Well over one-third (36%) of travel marketers in Asia Pacific plan on investing in Connected TV (CTV), a relatively new offering, in 2019. TV viewing in the region is very high, in fact, Japan shows the highest interest for CTV, at 42%, which reflects the fact that Japan ranks as the third highest TV consumption globally.
Trend #3: Big Tech Players Are Disrupting the Industry
Almost half (45%) of travel marketers in the region rank Facebook and Instagram as most likely to disrupt travel marketing over the next five years.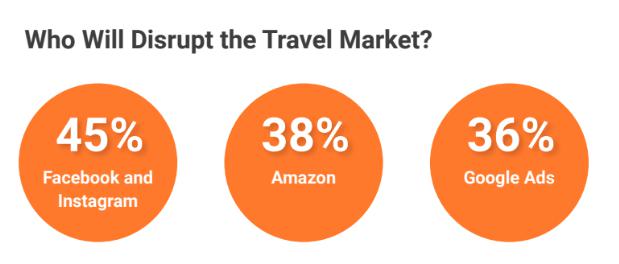 Although Amazon is the leading e-commerce player in North America and Western Europe, almost every country in Asia Pacific has their own dominant online travel sites: Ctrip in China, Rakuten in Japan, MakeMyTrip in India, and Traveloka in Indonesia, which are far ahead in terms of local market dominance.
However, it does seem that travel marketers are confident that Amazon will be able to roll out technology for the travel industry in the years to come, with 38% agreeing that Amazon will disrupt travel marketing. And Amazon has made its first steps in the region's travel industry this May with the appearance of flight booking on its India website.
Read Original Article