According to Phocuswright's latest Public Online Travel Roundup, Full Year 2018 travel research publication, growth rates in the world of public online travel once again slowed in 2018, but remained in double-digit territory, rising more than twice as fast as the total global travel market. Below are insights into regional focuses for the world's biggest OTAs.
U.S. OTAs: Expedia Group vs. Booking Holdings
The accommodation business for both Expedia and Booking remains a priority, yet each OTA's room nights grew at a more modest rate than either has been accustomed to in prior years. Both companies remain committed to an augmented lodging booking experience with the seamless interweaving of instantly bookable rental listings.
Asia Pacific OTAs
APAC-based OTAs represent more than one third of global gross bookings, fueled by the rise in China's biggest, Ctrip.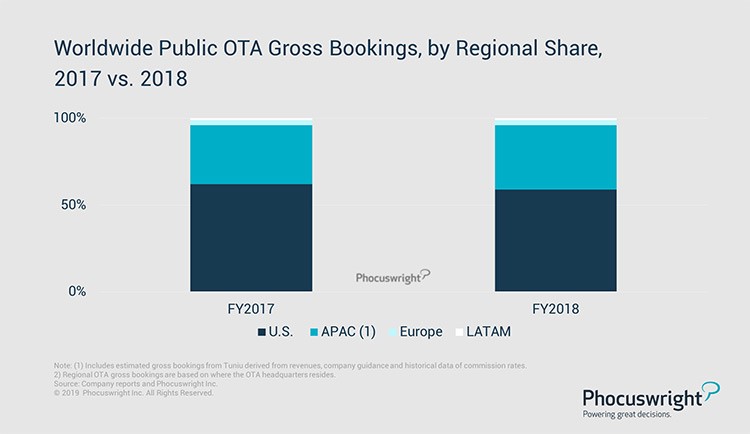 Phocuswright Chart: Worldwide Public OTA Gross Bookings, by Regional Share, 2017 vs. 2018
Europe OTAs
European publicly traded OTAs' annual gross bookings increased in 2018. With the European OTA market increasingly feeling the pressure from Booking and Expedia, eDreams and lmgroup (renamed from Lastminute.com Group last year) together remained stagnant with a single-digit share of global gross bookings.
Latin America OTAs
For Buenos Aires-based Despegar, mobile distribution has been and will continue to be a top focus, accounting for a third of 2018 gross bookings. But offline channels remain an important distribution channel, as call center gross bookings are still increasing.
Read Original Article