Asian cities had outnumbered their counterparts in Europe and America in terms of international tourist arrivals in 2017, according to leading data and analytics company GlobalData. Asia was represented by seven cities—Bangkok, Singapore, Tokyo, Hong Kong, Seoul, Kuala Lumpur and Shenzhen—while Europe, Middle East and America were limited to one city each—with London, Dubai and New York City respectively.
Depreciation of most of the Asian currencies (except Chinese Yuan) played a vital role in attracting international visitors to Asian cities. Tourists from Europe and China were behind the growth of international arrivals to Asia.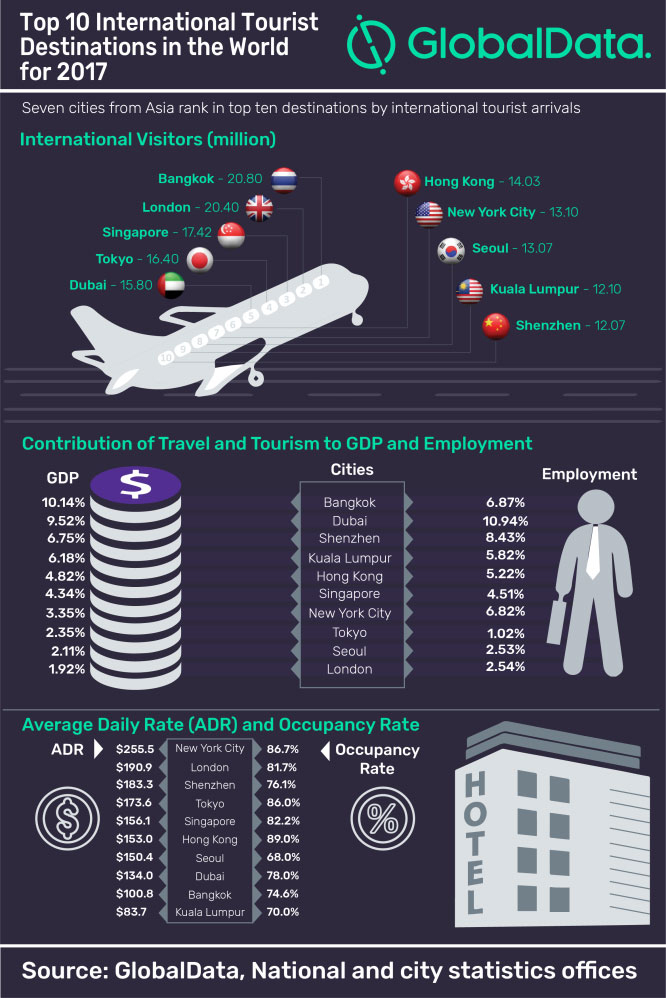 However, despite lower hotel cost, the occupancy rate in most of the Asian cities was around 70%, lower than cities in Europe and America in 2017. This is because the growth in hotel development in recent years is substantially higher than the growth in the number of travelers, hence, a considerable number of rooms remains unoccupied. Exception is seen in Tokyo, Singapore and Seoul, where business purpose tourists helped maintain occupancy rate at more than 80%. In terms of average daily rate (ADR), New York City leads the pack followed by London.
GlobalData expects Asian cities to continue to dominate the top 10 ranking list in terms of international destinations, primarily due to various initiatives such as implementation of single visa by the respective governments of Association of Southeast Asian Nations (ASEAN) member-states, the advent of low cost carriers and enhancement of transportation by developing highways and railways in Asia.
Read Original Article