With a 57 percent increase in value, the travel agencies category was the second fastest-rising category in the BrandZ China Top 100, after education. The increase followed a 46 percent rise a year ago when travel agencies and education tied for leadership in category value appreciation. The purchasing power and spending priorities of China's expanding middle class drove the expansion of both categories.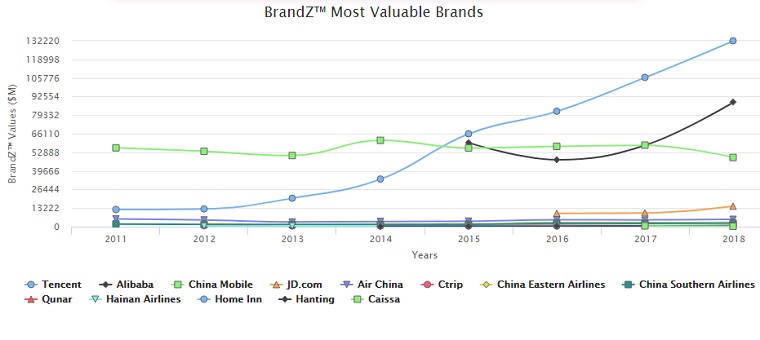 Travel Agencies
Along with Qunar (ranked 63rd), a newcomer brand, the online site Ctrip (ranked 34th) again propelled the travel agency value rise, increasing 36 percent in value on top of a 32 percent increase a year ago.

Caissa (ranked 95th), a newcomer to the travel agency category a year ago, declined in value. It is owned by the same corporate parent as Hainan Airlines.
Attracted to the massive growth potential of the travel agency business, Alibaba rebranded its travel site, Alitrip, calling it Fliggy, and designed it to appeal particularly to young people. Alibaba also entered a partnership with Marriott.
Hotels
Despite intense competition from both local and multinational brands, the hotels category continued to rise steadily in value, expanding 13 percent after recent annual increases of 8 percent and 11 percent. One hotel brand dropped from the ranking, or the value rise would have been greater.
The two remaining brands, Home Inn (ranked 81st) and Hanting (ranked 82nd), rose 46 percent and 50 percent, respectively. Both brands primarily serve the budget market with a consistent standard of comfort and service at an affordable price, for both leisure and business travelers.
Airlines
Following a 3 percent decline a year ago, the airline category rose 5 percent in value, a modest rise driven by rising consumer wealth, steady travel increases, route expansion, and lower fuel costs.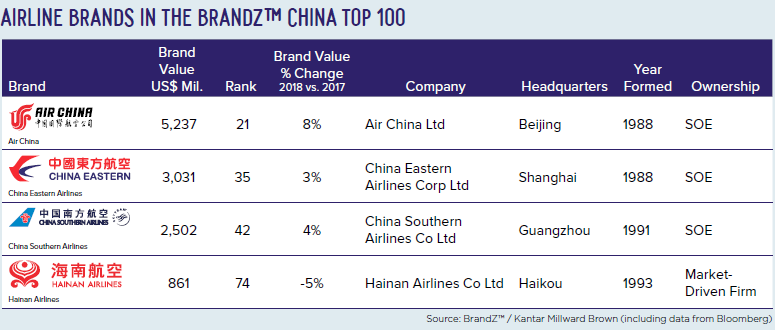 The airlines also benefited from less competition from high-speed rail. Air transportation revenue increased 13 percent through the third quarter of 2017, according to the China Civil Aviation Transportation Authority.