Hong Kong-based travel tech startup Tink Labs leases its mobile device Handy to hotels. The device is with native Wi-Fi access, its bespoke OS, HotelPortal platform and LUXOS-curated content, it also works as a personal concierge, in-room remote control, travel guide, live language translator and booking platform.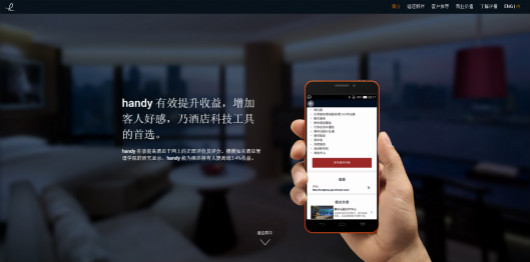 Handy was borne out of frustration over paying roaming fees while on holiday, according to TravelDailyMedia (TDM), which had an interview with Tink Labs founder and CEO Terence Kwok (TK).
TDM: When you began handy, did you really mean to address the problem of roaming fees? Why?
TK: The idea of handy came about through a real struggle I had in 2012. I was travelling on a family vacation, and throughout the trip, I had to leech off spotty Wi-Fi signals across Europe. Out of desperation, I enabled the roaming option on my smartphone. As I was counting every minute I spent on it, I wondered: "Why can't I be connected like a local?"
TDM: How does handy generate revenue for Tink Labs?
TK: The partner hotel pays for the handy service based on the number of rooms. Service fees vary depending on the level of integration with hotel services and the number of features that hotels activate, such as push notifications, in-room dining and many others that handy offers.
Hotels on average only need to pay a rate of US$0.50 to US$1.00 per room per day for the handy platform, less than the price of water in many countries.
TDM: What do you think is the biggest secret to handy's success?
TK: Our holistic B2B2C approach allows both the hotel and user to benefit. We help hotels to increase revenue, guest satisfaction and solve the issue of travellers spending very little time inside the hotel, as our product helps them market their restaurants and facilities even when guests are outside.
Read original article