For the past seven years, the travel-and-tourism sector has outperformed the overall economy every year, contributing as much as USD 7.6 trillion in 2016, including the wider impact on the economy, according to the World Travel & Tourism Council.
Nowhere is this revolution more dramatic than in Asia.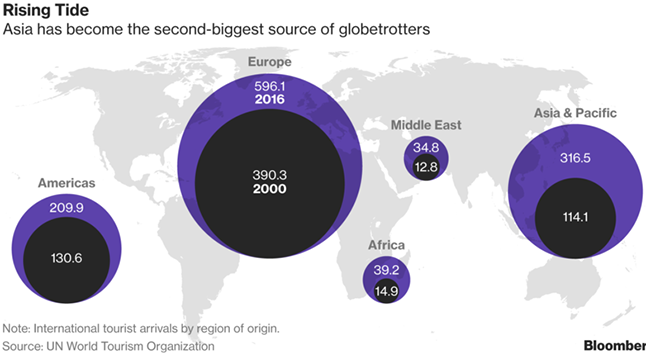 A rising tide of travelers from China is spreading out across the region, out-shopping, outspending and out-eating every other nation. They are filling hotels, tour buses and cruise ships. They are overwhelming airports and train stations, and they are sending home petabytes of pictures that encourage their compatriots to join the global invasion.
China already accounts for more than a fifth of the money spent by outbound tourists, twice as much as the next-biggest spender, the U.S., according to the United Nations World Tourism Organization. And the Chinese have barely started — only around 5 percent of them even have passports, and the government is issuing about 10 million new travel documents every year.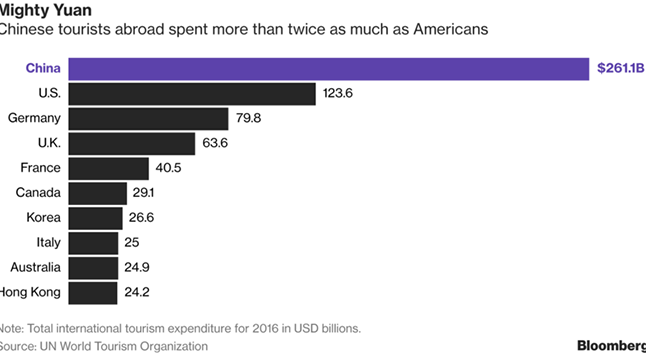 By 2021, Chinese tourists will spend USD 429 billion abroad, according to a report by CLSA. And they are spreading out. Weekend jaunts to the shops in Hong Kong or the casinos in Macau are being usurped by new favorite destinations. During the next three years, Japan, Thailand, the U.S. and Australia top the must-visit list, according to the report, with other destinations in Southeast Asia — especially Singapore, Indonesia, Malaysia and the Philippines — following close behind.
The result is a second revolution in tourism in the region — one that is being fueled by social media.
At the heart of the changes transforming the industry is the nexus of internet, smartphone and big data.
Read Original Article