China already has the globe's longest bullet-train network, but it's plowing 3.5 trillion yuan (USD 556 billion) into expanding its railway system by 18 percent over the next two years, to 150,000 kilometers, or more than 93,000 miles.
While the advent of cut-price flights has dimmed the appeal of rail travel in other parts of the world, in China it's on the rise. Last Spring Festival saw a record 10.96 million trips on one day, and for the first time more people took bullet trains than conventional ones, according to official data.
Almost nonexistent in China a decade ago, high-speed rail has exploded, with more than half of the 25,000-kilometer network built between 2013 and 2017. The plan is to expand it by more than 50 percent by 2025, with eight main bullet-train lines running from east to west by 2030. China intends to have another eight main lines running from north to south as well.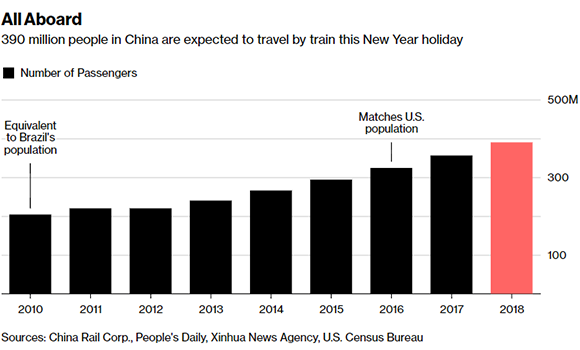 That will open up the network -- which was initially focused on setting up high-speed connections in major economic hubs along China's wealthier east coast -- to the less developed west.
This Spring Festival, people are expected to make an estimated 390 million rail trips in the 40 days starting February, the typical travel period for the holiday. That's up 8.8 percent from a year earlier, and almost double the 200 million trips made in 2010. Four of the eight high-speed lines going from east to west are already in operation.
Read Original Article