India Travel Award winners Pankaj Nagpal and Sucheta Nagpal, the founders of Travstarz, have announced that Tours4fun, a booking portal for global tours and activities and subsidiary of Ctrip, has ventured into India by acquiring a stake in Travstarz Global Group.
Tours4fun has ventured into global travel B2B business with the launch of RezB2B Global Limited and its platform Rezb2b.com. The details of the deal were not disclosed by both parties.
"We shall be merging our online platform travelrezonline.com into Rezb2b.com and all further developments will be jointly done by our India and Global IT Teams to offer an advanced and robust online B2B system with best worldwide inventory of flights, hotels, packages, transfers and sight seeing, visas, travel insurance and forex." said Pankaj Nagpal, MD, Travstarz Global Group and Sucheta Nagpal, Director & CEO.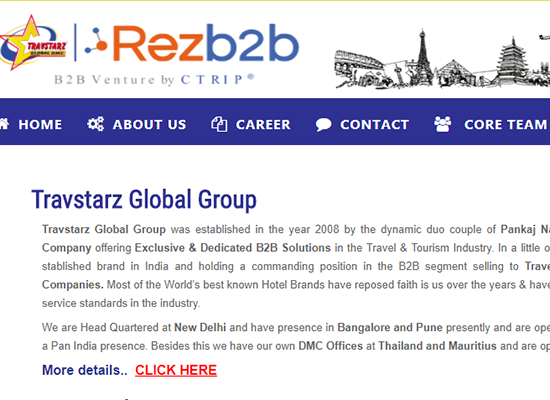 Established in 2009, Travstarz Global Group started with selling Hong Kong and Mauritius as a destination. The group grew extensively over the past few years and is today the leading wholesaler for all major luxury hotel brands across the globe and has its DMC operations at Thailand, Mauritius, Maldives, Seychelles, Singapore, Malaysia, Eastern Europe, Azerbaijan and UAE.
Kevin Du, CEO, RezB2B Global, added, "With this acquisition we will merge content from Travstarz and RezB2B to offer all services on a single platform and will create a perfect B2B product with capabilities built in to automate the agency processes besides being one of the best booking engines for the trade. "
Read Original Article