Xiaozhu, China's answer to Airbnb, will use the peak travel season of Chinese New Year to begin testing smart locks that can be opened by scanning tenants' faces, which would satisfy laws requiring identify verification.
"As regulation remains unclear, Xiaozhu hopes to use the power of technology to find common ground with authorities. Regulators can wait, but with the pace of technology we can't," the company's chief executive Kelvin Chen said in an interview on the sidelines of the Wuzhen World Internet Conference on Monday.
Xiaozhu will start installing the lock system, which was co-developed with Ant Financial, in March or April after initial tests are carried out, said Chen. The move comes a month after the company announced its latest funding round led by Jack Ma-backed Yunfeng Capital, which vaulted Xiaozhu into the ranks of China's unicorns – private firms valued at USD 1 billion or more. Ant Financial is backed by Ma's Alibaba Group, which owns the South China Morning Post.
The smart locks strategy is expected to give the home sharing unicorn a leg up against US-based Airbnb when it comes to the mainland China market, amid the latter's pledge to invest as much as it needs to expand in a market it considers of "fundamental importance".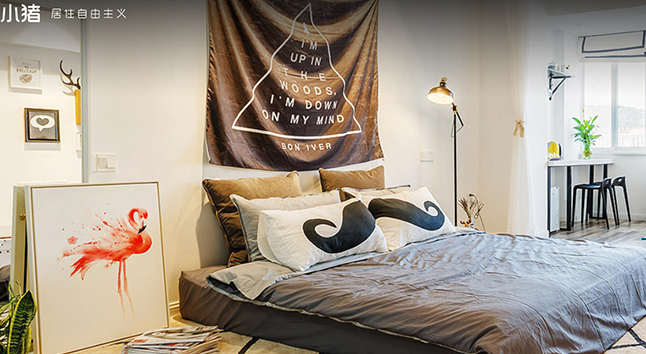 While crediting his US rival as having first-mover advantage in China, Chen is confident the mainland Chinese home-sharing market will be bigger and grow faster than the US.
"China has less cultural, customs or legal barriers when it comes to a sharing economy. Although the market may start off slow, Chinese companies move quickly when it comes to upgrading [travel] infrastructure and combining online technology with the offline environment," Chen said.
Chen also expects Xiaozhu to adopt Ant Financial's credit investigation analysis tools as a step towards scrapping down payment or deposit requirements for certain renters, as well as work with Alibaba's travel service provider Fliggy in opening up new channels for the promotion of rental listings.
"We are discussing an extensive partnership with Alibaba and its affiliates," he added.
"As regulation globally is still unclear, we might as well let sharing companies like Uber or Airbnb get listed first and see how it works for them," he said.
Chen said Xiaozhu is profitable and the timetable for an IPO can be determined by how aggressively the company wants to push its brand campaign. "The market is driven by demand instead of operations or promotion. And there is just more demand to fill."
Read Original Article