China's uniqueness
China's importance in the travel market cannot be understated. The IATA forecast recently revealed that China will have the largest market share in 2022, displacing the US, as its air passengers nearly double from 4 billion this year to 7.8 billion by 2036.
A truly global travel brand, if and when it emerges, will have to cover both West and East. For now, that slot is still wide open – and Chinese brands are beginning to look like serious contenders.
Chinese Giants are heavily involved in travel
Unlike the GAFA giants (Google Amazon Facebook Apple), the Chinese BAT (Baidu, Alibaba, Tencent) are more involved in travel.
Baidu, dominant in search owns 25% of Ctrip, China's largest OTA, while Alibaba recently launched the OTA "Fliggy", cross-selling travel and optimizing its sales off the back of its monumental ecommerce platforms Taobao and Tmall. Tencent meanwhile, has just led a $4 billion round in China's online firm Meituan, which is also engaged in travel.
But the Chinese giants aren't stopping there. Ctrip – the Chinese OTA – has not only become the undisputed leader in China, it has also gone on a global acquisition spree to start a worldwide innovative travel empire, recently snapping up Skyscanner and a leading OLTA – Makemytrip – in the fast-growing India.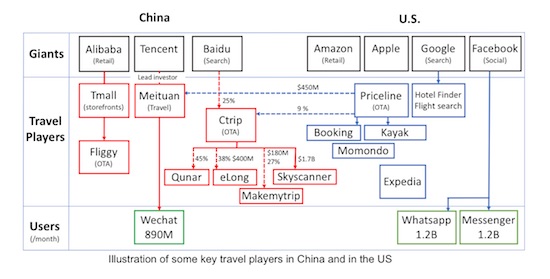 China is the first "Mobile Only" big country
While most Western countries are still struggling to nail the shift from web to mobile with a supposedly-aggressive "mobile first" or even "mobile most" approach, China jumped directly into "mobile-only."
Mobile players in China aren't so entangled in transitioning adoption schemes or gracefully-degraded responsive models. Most business models there are only designed for mobile and nothing else. Imperfect desktop solutions are sometimes added as an afterthought. Mobile becomes so mandatory that Ctrip now promotes campaigns with up to 50% savings with mobile-exclusive deals on its app.
Chinese market self-stimulation
Unlike most countries, airlines can be perceived to be weaker in China's online ecosystem. Airlines represent a staggering 600 million passengers, growing drastically both domestically and internationally (particularly outbound and also inbound, thanks to new visa policies).
But similarly to the West at an earlier stage, Chinese state-owned airlines will have to perform better than OTAs in terms of digital penetration. When this power balance between OTAs and airlines will significantly change is anyone's guess but airlines will eventually grasp back power and regain a clear online market lead.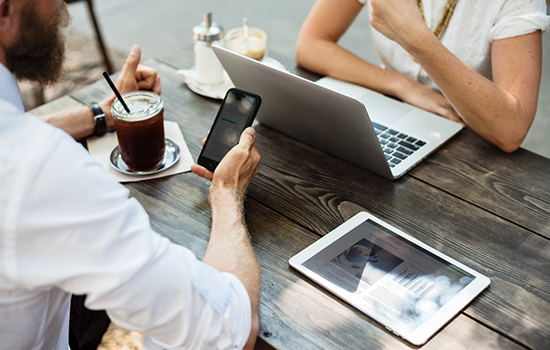 Three challenges for a global quest
Taking into account China's uniqueness, the potential winner of the first B2C global travel brand will have to focus on the following drivers to succeed:
#1: Content
The next challenge is to combine all these travel "tabs" (a la Amazon) to provide all relevant options within a streamlined decision-making process. The global brand will have to provide all the right content at the right time.
#2: Chat
An important key to unlocking a global travel giant is to look at what will become consumers' favorite communication channel: chat. Here again, the US vs. China battle is raging with Facebook Messenger and Whatsapp (totaling 2.4B users / month) and Tencent Wechat reaching close to one billion users/month.
#3: Simplification
There is definitely an opportunity to further consolidate and simplify. In addition to a multiplication of brands, there are also too many business models, specialized portals, and diversified segment-focused solutions. This fragmented landscape prevents travel giants from achieving basic economies-of-scale and drives unnecessary complexity into their traveler experience.
Will a global B2C travel brand finally emerge?
On one hand, a global brand makes complete sense for global travellers.
But even with a global brand, specialized and local brands will not lose their relevance. Instead of a one-size-fits-all, wishy-washy platform, expert services on travel adapted and relevant to specific needs and culture will better resonate with travelers on a region-by-region approach.
For now, Ctrip and Priceline/Booking are on the right track to achieve a strong duopoly on a truly global scale. From a financial standpoint with both groups standing at USD 24 billion and USD 85 billion respectively in terms of market cap, the current focus may not be the global brand itself but rather the above business drivers to capture more market share.
They will likely be the first to build their global, advanced data-driven platform before extending (and consolidating) their brands externally and on a global level.
Time will tell from where the first truly global brand will emerge. My money, however, is on China.
Read Original Article