Home
>
>
Airbnb lashes out at Marriott, intensifying clash with hotels
Airbnb lashes out at Marriott, intensifying clash with hotels
11/22/2017
|
6:31:24 PM
|
中文
Recently Airbnb's head of public policy wrote to Marriott CEO, claiming hospitality's habit of taking money from taxpayers to subsidize the construction and operation of hotels.
On Monday, Airbnb's head of public policy Josh Meltzer sent a letter to Marriott CEO Arne Sorenson, asking him to explain to Americans "your industry's habit of taking billions of dollars from taxpayers to subsidize the construction and operation of your hotels."
The letter, a copy of which CNBC obtained, follows a Fortune interview with Sorenson last week. In it, Sorenson was asked if he thinks Airbnb has become more willing to make concessions or cooperate with regulators.
"I don't know that I see that they're more willing to concede," Sorenson answered. "They're spending a lot of money on government affairs and they're playing pretty aggressive. I've had letters from Airbnb directly, demanding my response about some charge, I don't even know what it is, within hours. That's pretty aggressive, and I'm not going to respond to that."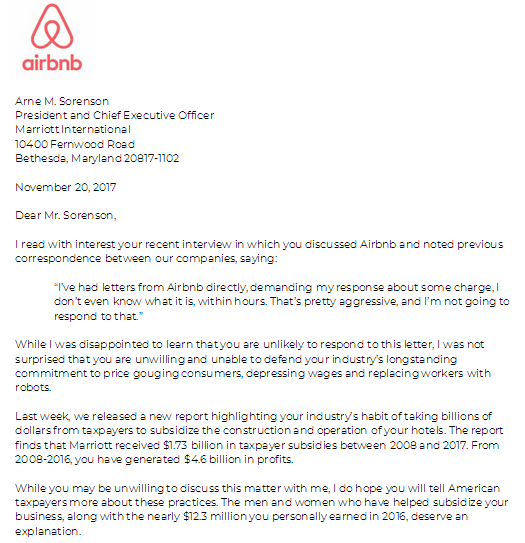 Part of the letter Meltzer wrote to Sorenson
The clash of the Silicon Valley technology disruptor and the old, slow-moving industry has been raging for years and only intensifies as Airbnb gets bigger and more influential. The hotel industry has long claimed that Airbnb skirts laws around taxes and real estate use, while Airbnb has said that hotels are doing everything in their power to protect their turf at the expense of consumers and taxpayers.
Read original article