The research, which identified trends and insights into how travellers use digital tools differently around the world, and what providers can do to serve evolving needs, covered roughly 11,000 respondents across 19 countries – including Australia, Japan, Indonesia, India and China.
APAC dominated the top three spots in a global ranking of the most to least digitally dependent traveller, with India at number one, followed by China and Indonesia.
Results indicated that voice is on the rise in travel planning, with 47% of respondents globally reported using voice search when researching a trip. APAC ranked significantly higher at 58%.
In APAC, it was found that 80% still prefer to consult travel professionals when planning a trip. It demonstrates that there is still a reliance and value in seeking out specialised expertise through a travel community. Nevertheless, APAC is at the forefront of online travel and "it is critical that travel professionals, irrespective of channel, embrace this" and develop their digital strategies as well.
When it comes to booking, internet connectivity is a major factor affecting how travellers choose their travel options. For example, the majority of respondents stated they would consciously avoid hotels that do not offer free WiFi (61% in APAC).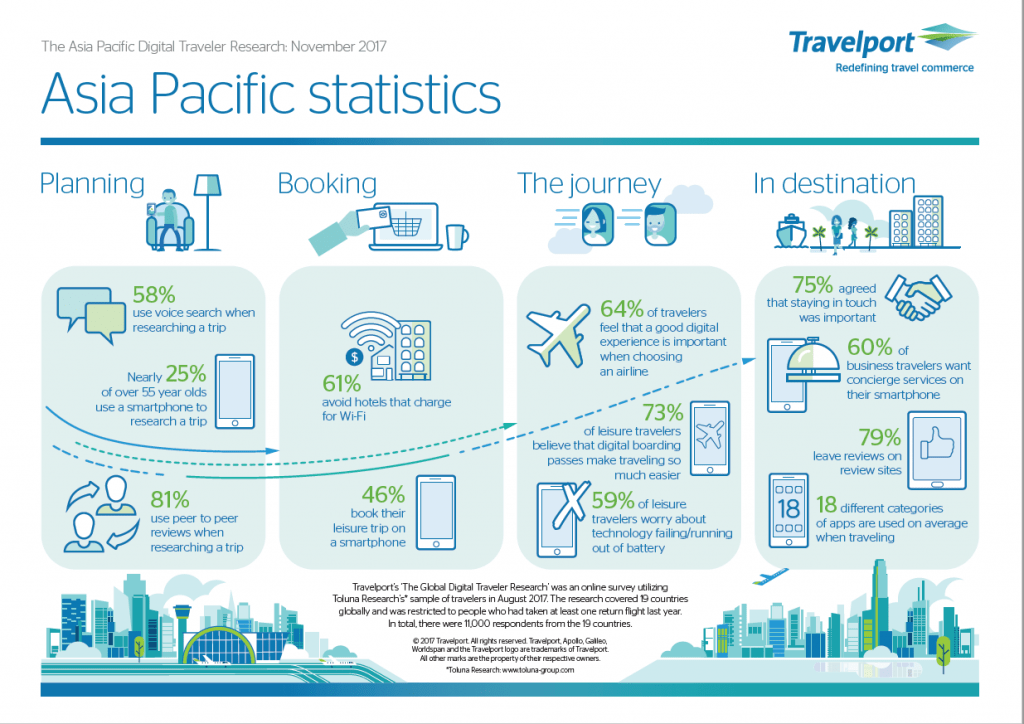 In the realm of corporate travel bookings in APAC, unsurprisingly, 35% of business travellers use mobile, but 53% identify complicated Terms & Conditions as a common pain point. 39% said they didn't understand what is included in travel packages (e.g. luggage, meal choice) and 36% said they'd like to speak to someone about clarifying common ambiguities. APAC has the highest level of global dissatisfaction in the space, indicating a pressing need for better service and support from providers.
During the journey, globally 60% felt a good digital experience of an airline is important (e.g. quality of their website or app, mobile bookings, notifications, online check-in etc.). In APAC, this was important to 64%, reflecting perhaps the greater prioritisation of digital features. Mobile is especially critical, as Travelport anticipates that at least 70% of its bookings will originate in a mobile device by 2020.
Staying consistent with the desire for end-to-end digital travel tools, 52% of business travellers want concierge services on their smartphone, with a priority on staying in touch.
The report found that on average, travellers use 16 different categories of apps when travelling (18 in APAC, and 20 in China alone) to get all their information and needs via mobile.
Ultimately, the study concludes, brands that are winning in digital travel are those that offer a seamless, mobile-first experience. Providers that can strategically plot out contact points and remain engaged with the customer at the most critical times will undoubtedly take the lead.
Read Original Article