Moxy Times Square wasn't specifically developed to take on Airbnb, but that was nevertheless the result with the launch of Marriott's hip and innovative new midtown Manhattan hotel.
With its high-style, urban camping aesthetic; incredibly affordable room rates ($149) and a variety of industry innovations—such as dialing down the services offered and instead channeling energy into fostering a sense of community at the property—Moxy is aiming squarely at today's modern traveler.
The 612-room property, which opened just a few weeks ago, attempts to reinvent the hotel experience on multiple levels.
Take the lobby for instance: Instead of standing in line at a traditional front desk, Moxy guests check in with a crew member at dedicated kiosks (If they haven't already accessed keyless entry through the Marriott mobile app.)
Just beyond the check-in area is the Moxy Digital Guestbook, which streams videos and images taken within Moxy hotels or tagged #atthemoxy, offering a little pre-elevator amusement. Nearby is a New Stand, a hybrid retail, and media concept boutique convenience store that reimagines what the modern day "newsstand" should be.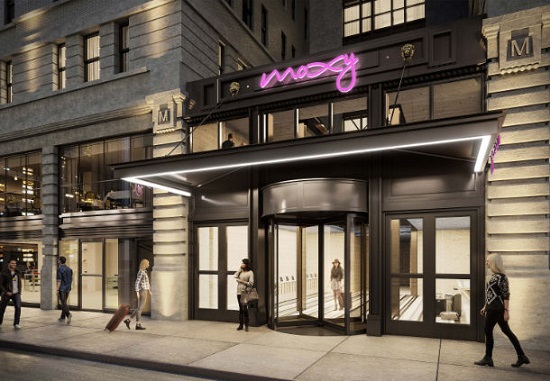 And while all of these details are interesting, it's the rooms and various public entertainment spaces that really steal the show.
Bedrooms at Moxy are created to be both functional and flexible, patterned after elegant Japanese ryokans in which the use of the space transitions and evolves throughout the day based on the activity at hand. To that end, furniture (such as chairs), can be hung on pegs and other items are designed to foldaway.
Additional noteworthy room details include walk-in rain showers, wood frame beds with storage and furiously fast (and free) WiFi. There's also Bluetooth soundbars and large flat-screen HDTVs that allow guests to stream Netflix, Hulu, YouTube and more.
On the rooftop, travelers will find Magic Hour, the property's sprawling and buzzed-about open space that could very well change the NYC rooftop game. The emphasis at Magic Hour isn't on velvet ropes or bottle service. Rather, the focus is on plain-old fun. There are five distinct environments offering up everything from an antique carousel to a miniature putt-putt course.
Moxy's interior bar meanwhile (called Bar Moxy) is yet another innovative creation designed to morph throughout the course of a day from one use to another.
Additional locations will include Los Angles, Miami, and New York's Greenwich Village.
Read original article