Airbnb's new service, Airbnb Select, will offer rentals vetted and, in some cases, improved by the company. It is part of Airbnb's growing emphasis on upscale rentals, a significant evolution for a company whose origins are rooted in subverting traditional hotels and businesses. The program could help Airbnb attract customers who haven't wanted to take the risk of staying in a stranger's home. Yet standardized offerings could dent the company's reputation for uniqueness and accessibility. Higher-end rentals also come with higher costs of monitoring the properties.
The Takeaway
New Airbnb service emphasizes vetted properties
Hosts could get advance payments from Airbnb for home improvements
Focus on up-market listings might alienate other hosts
Airbnb plans a limited launch of Select in 2018 before eventually scaling it to hundreds of thousands of homes, out of its more than four million listings.* Many details around Select could change because it is still in the pilot stage, a person close to the company said. Bloomberg earlier reported some details about the program tests.
One risk for Airbnb is asking too much extra work of hosts, driving them off the site. The company has been planning meetings with hundreds of top-rated "hosts"—people who rent out their entire homes or spare rooms in its marketplace—in cities like San Francisco, Los Angeles and Chicago in recent months to describe its planned "Select" program. It includes having hosts meet with photographers who also serve as home inspectors, noting things like which walls have chipped paint, as well as with interior design specialists recommending different kinds of throw pillows, among other things.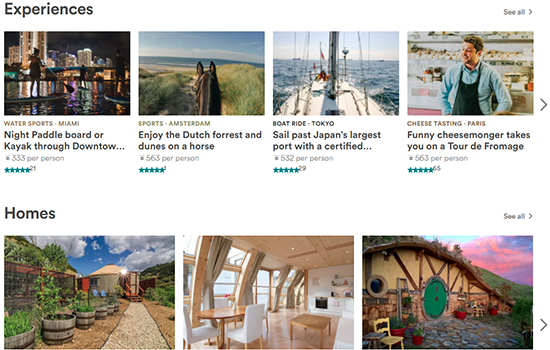 Targeting new customers
Another question Airbnb faces is how to differentiate "Select" homes from the site's even more upscale rentals. It spent about USD 200 million to buy the Montreal-based company Luxury Retreats earlier this year, giving Airbnb a relatively small slate of fancy properties such as USD 2,500-a-night villas in Tuscany. The company also is working to expand the division of the company focused on luxury homes, reorganizing the company so that "Lux" has its own division.
The homes that are part of the Select program aren't necessarily considered luxury. One host invited to the program offers just a spare bedroom in a apartment, but not the full apartment. Another host invited to the program, Van-Martin Rowe of Pasadena, Calif., lists two guest houses for USD 200 to USD 250 a night.
Competing businesses
The company is being flexible with other parts of Select. The company has told hosts it won't require them to register their listings as Instant Book, which Airbnb and customers typically prefer so they don't have to wait for booking confirmations.
The Select program would be the most dramatic step by Airbnb to try to maintain home quality and take more control over how hosts operate. Airbnb has sought for years to influence how its hosts—who range from empty nesters with extra rooms to real estate professionals—keep quality high in their homes, ranging from a "superhost" program that rewards top performers to a business travel tier that requires a desk and wifi. It has typically stopped short of requiring certain standards to list homes on parts of the platform.
Airbnb Select might help the company grow its business in U.S. and European vacation rentals outside of big cities, such as mountain or beach towns, a market that is still dominated by sites like Expedia-owned HomeAway or Priceline's Booking.com. Airbnb Select is expected to help Airbnb make headway in those markets, two people close to the company said.
Read Original Article