On Tuesday morning at 10am Pacific Daylight Time, Dara Khosrowshahi sat comfortably in a conference room on the 17th floor of Expedia's Bellevue, Washington headquarters, giving no indication of his plans to continue his 12-year tenure as the OTA's CEO or jump ship for the top job at Uber.
Hanging in the balance is more than USD 184 million in unvested Expedia stock options, which Bloomberg speculates Uber will have to best with a salary package exceeding USD 200 million or more.
Regardless of where Khosrowshahi's next paycheck comes from, the future of Expedia holds more certainty as the company has a succession plan in place, according to Khosrowshahi.
"We take planning very seriously and while we haven't announced anything –you can never anticipate the timing of succession—we're completely prepared for it," he said. "We have an executive team that's been here for years and totally aligned strategically. So just like any system you design shouldn't be dependent on any one type of fault area, our management team is the same."
He's also confident that Expedia will stay the course to increase gross bookings to USD 100 billion by 2020, an objective he announced at last December's 2016 Expedia Partner Conference.
"Fundamentally, we put that target forward because it would be both a great challenge and a great accomplishment and while we're not there yet, we're definitely on track to hit that target," he said. "I'm fully confident that Expedia leadership will take us home."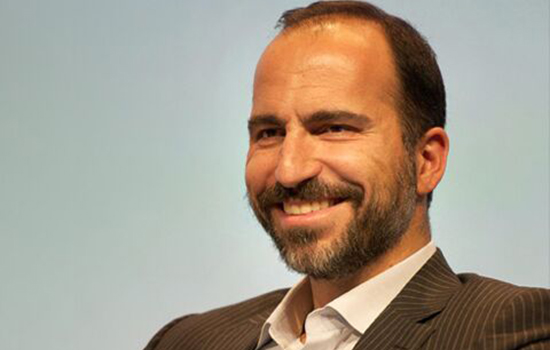 Dara Khosrowshahi
Expedia's growth remains strong
No doubt that target was at least in part a means of growing Expedia's stock prices to USD 170 a share by September 2020, a requirement of Khosrowshahi's 2015 compensation package. But whether he makes the move to Uber or not, Expedia is on track to increase gross bookings by another USD 30 billion in three years.
This growth is primarily through expansion in Asia, where the travel tech firm is complementing organic growth with a USD 350 million minority investment in Southeast Asia's online travel company Traveloka. The investment aims to leverage the rise of Asia's middle class and its interest in global travel. A focus on mobile will also remain at the forefront of Expedia's agenda in order to reach Asian travelers who tend to forego desktop usage in their trip planning and purchase habits.
Khosrowshahi also expects Expedia to consistently deliver online leisure and corporate bookings for supplier –with or without him at the helm, noting "we haven't hit the ceiling as far as the online penetration that Expedia continues to have and no one knows what that ceiling will be."
More specifically, he called Lodging Partner Services, Expedia Media Solutions and Expedia Affiliate Network "some of the fastest growing areas of our business," anticipating little to no change to the inherent nature of each business' structure because "they require real investment in getting to know the needs of our partners and those relationships aren't built overnight."
The similarity between Expedia and Uber
Creating a similar stability everlasting was likely a factor in besieged Uber's decision to offer Khosrowshahi the unfilled CEO position, but he himself believes that parallels between the two companies already exist.
"Expedia and Uber each have to build up supply and demand marketplaces," Khosrowshahi told tnooz. "That presents the chicken and the egg dilemma –you can only build supply to the extent that you can deliver demand, but demand can only be satisfied if you have the supply footprint. That's something that Expedia is familiar with and something that Uber has perfected and will continue to perfect over its lifetime."
Read Original Article