Home
>
>
TripAdvisor's smoother path to a takeover
TripAdvisor's smoother path to a takeover
08/24/2017
|
6:56:17 PM
|
中文
TripAdvisor's potential acquirers may not only be Priceline and Expedia, but Facebook, Amazon and Alibaba. TripAdvisor's market value has shrunk to over $5 billion from over $9 billion this time a year ago.
TripAdvisor Inc. has been mentioned before as an acquisition target. It adopted a plan earlier this month that better remunerates key executives whose jobs may be jeopardized by a change-in-control event such as a merger or sale of the company.
Both Priceline and Expedia may have their eye on the company, which boasts 415 million average unique monthly visitors. And the company could attract the likes of Facebook Inc., Amazon.com Inc. and Alibaba Group Holding Ltd. as they seek a bigger share of the online travel industry.
TripAdvisor's market value has shrunk to $5.7 billion from over $9 billion this time a year ago, in part because it's battling with tweaks to its business model after attempting to become a fully fledged booking company rather than a pure review site. Its earnings have also been pressured by an uptick in visitors via mobile devices who tend to use the site for research and planning rather than for booking travel and are therefore less coveted by advertisers.
TripAdvisor shares are trading around their lowest level in four years. Analysts don't expect a rebound anytime soon.
Even after the stock's decline, TripAdvisor isn't exactly cheap. Its enterprise value-to- Ebitda multiple is roughly 15.2, below its own and its peers five-year historical average of 18.9 and 18.7, respectively. But that's still above the valuation of its two most likely buyers, Expedia and Priceline, even though their stocks have recently outperformed that of their potential target.
TripAdvisor has struggled over the past year, in part because of rising competition and a surge in mobile users, who are the recipients of less advertising.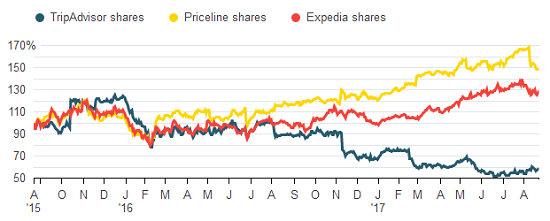 The company bought back $250 million of its shares between January and August, which has done little to support its share price.
Potential acquirers may be better off waiting to see if TripAdvisor's stock either stabilizes or slides further to a level where a deal becomes more compelling. Still, if a transaction is struck, odds are good that TripAdvisor's management will consider it worth their while to facilitate a smooth transition.
Read original article