Home
>
>
YC backs HotelFlex pay-by-hour hotel platform
YC backs HotelFlex pay-by-hour hotel platform
08/16/2017
|
6:44:12 PM
|
中文
HotelFlex will divide the total price of the hotel by 20 hours and charge by hourly rate. Now they provides hotels and the PMS they use with the technology, and takes 15% of any extra revenue generated by the hotel.
Most would agree that the worst part of traveling is timing the hotel check in. Either you get off a redeye and have to figure out what to do all day while waiting to check in, or you arrive late at night and waste money paying for a room you didn't get to use all day.
The startup HotelFlex, part of Y Combinator's summer 2017 batch, wants to change the way hotels operate so guests can check in and check out at whatever times they want – and pay accordingly.
There are also benefits for hotels – they can generate additional revenue by getting guests to pay a little extra to check in early to rooms that would otherwise be empty during the day.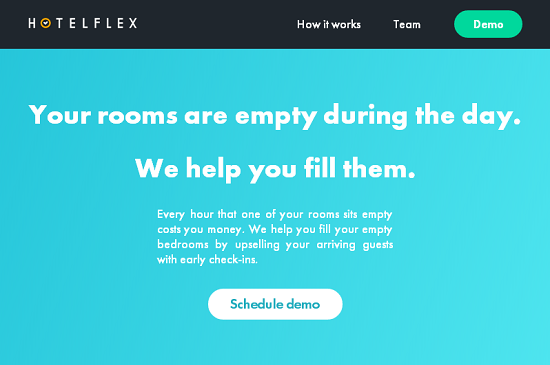 Right now the pricing is essentially pro-rata. Meaning HotelFlex will take the total price of the hotel and divide it by 20 hours, which is the standard one-day hotel window. They then multiply this hourly rate by how many hours you spend in the hotel. While this simple formula works well enough, the startup wants to tweak this to account for things like variable demand. This way hotels could charge more if a lot of guests want to check in early on particular morning, or tempt guests to extend their checkout at a discounted rate on a slow weekday.
HotelFlex has no plans to become a full-fledged booking platform – right now they are providing hotels and the property management systems they use with the technology to let guests book rooms with varying check in and check out times. In return the startup takes 15 percent of any extra revenue generated by the hotel.
Read original article