Criteo has linked up with Euromonitor International for a report which shows that the growth of mobile travel in Asia-Pacific is not limited to China.
The study used Euromonitor data from nine markets and also polled 1,900 consumers about their travel search and booking patterns.
Clearly, the scale of the Chinese market makes it the obvious leader in volumes, but there is bigger growth coming in other markets, noticeably India.
And while China is currently the world's most populous country with 1.41 billion, a recent report by the United Nations said that in "roughly seven years, the population of India is expected to surpass that of China".
Mobile bookings will account for 50% of the online travel sales this year in Asia-Pacific, rising to 58% by 2020. By country, China has and will continue to have the highest percentages, but the growth is strongest in India, where Euromonitor predicts a compound annual growth rate of 62.2% for mobile bookings between 2017 and 2020.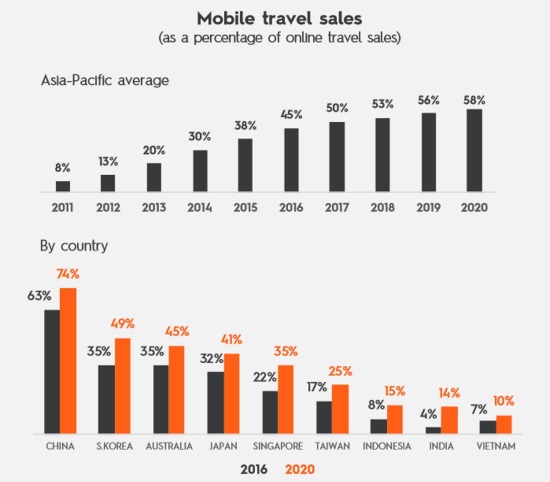 Driving the growth in mobile bookings is an expected increase in smartphone penetration – again, India is seeing a bigger percentage increase than China. but smartphone reach is going up in all markets, with Indonesia and Vietnam performingly strongly.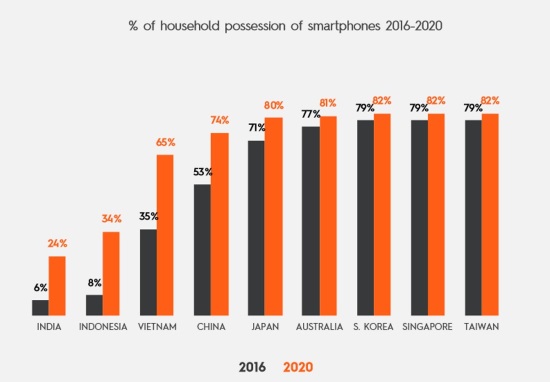 India also currently has the highest proportion of travellers who browse and book "on the go" – 62% and 54% respectively compared with the regional average of 43% and 34%.
The research also offers a rare glimpse into the stats around mobile web compared with native apps. Australians are the most likely to use the mobile web, while Chinese travellers are opting for apps. In five markets, apps are dominant.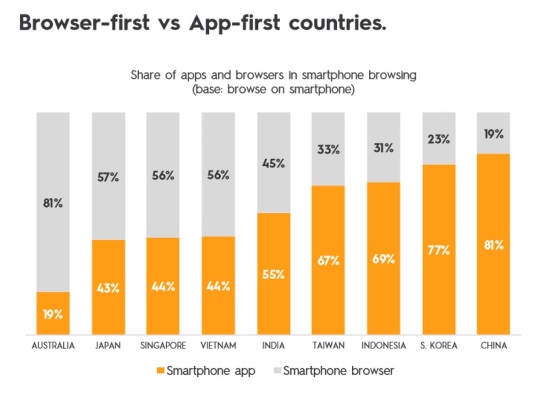 66% of people in the region have clicked on a retargetted ad.
South Koreans prefer to book via price comparison sites rather than OTAs.
Millennials in Vietnam, Japan and Singapore prefer laptop over smartphones for travel search and booking.
What the study shows is that mobile is clearly taking a bigger share of online travel search and booking in Asia Pacific, no surprise there. It predicts that the Asia-Pacific online travel market will be worth $446 billion by 2020, a 72% increase on 2016. Mobile will account for around three quarters of this growth.
The different growth rates and user behaviours between countries show that the pockets of opportunity vary across the region. China deserves to fly the flag in terms of mobile developments, but India could be dominating the conversations in ten year's time.
Read original article