A new report from TrustYou suggests that hotels and OTAs are not yet fully embracing the opportunities around upselling and ancillary revenues. The killer chart references the subject of the communications that guests recall having received during the crucial post-booking pre-stay phase.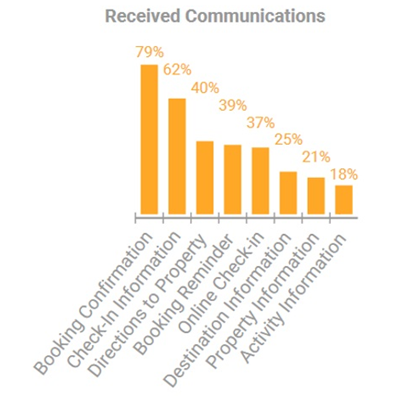 Almost eight of ten guests get a booking confirmation, while communications around the mechanics of the stay are fairly strong. But hotels and OTAs seem less interested in inspiring guests in terms of what they can do in the destination, what they can do on property and specific activities.
Each of these represents an opportunity for hotels and OTAs to upsell, either directly or via partners, and it even looks as if the hotels are not interested in talking up their own on-property amenities.
The reluctance to inspire is surprising, given that guests are effectively a de facto captive audience once they have booked. TrustYou found that 80% of guests expect to be contacted by the hotel before they arrive.
Guests also prefer email over other communication channels, although the report identifies that hotels who engage guests through "messaging"see higher satisfaction levels from their customers.
Read original article