So far in 2017 as of May 10, 2017, over 120 travel tech startups around the world have secured funding, according to CB Insights.
Travel tech startups garnered USD 1.4B in funding in Q1'17, which is the third-highest quarter for funding to these companies since at least Q1'12.
Airbnb is the most well-funded travel tech company followed by Tongcheng Tourism (LY.com), and OYO Rooms.
Two travel tech companies have raised over USD 1B: Airbnb, and LY.com. Rounding out the top three is the company Oyo Rooms.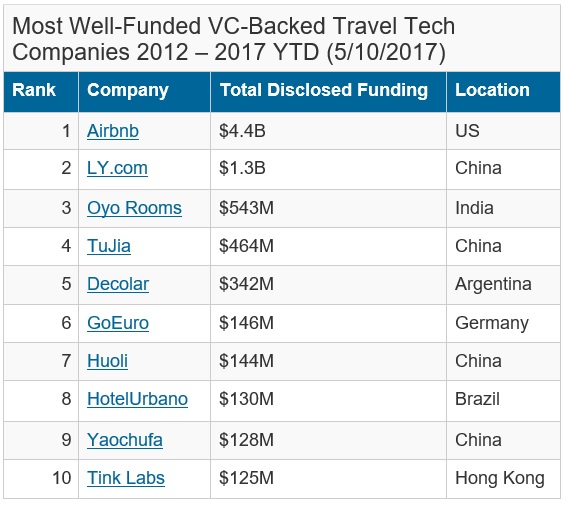 Funding to travel tech companies peaked in 2015 when dollars hit an all-time high of nearly USD 5B (USD 4.857 billion). The peak in 2015, is largely due to a USD 1.5B Series E round secured by Airbnb, in June. The second-largest deal to a travel tech company in 2015 went to LY.com, when the investors CITIC Capital Private Equity, Tencent Holdings, and Wanda Group took a corporate minority stake in the company for USD 967M in July 2015.
Last year the heftiest investment went to Airbnb again (USD 556 million), followed by Skyscanner's pre-acquisition round of USD 192 million.
Notably, the largest Series A round invested in a travel tech company since 2012 went to the Honk Kong-based company Tink Labs (USD 125M Series A, Q3'16). Tink Labs offers "handy," a mobile solution for travelers.
Although the volume of individual deals climbed during last year, actual levels of funding were down overall on the previous year.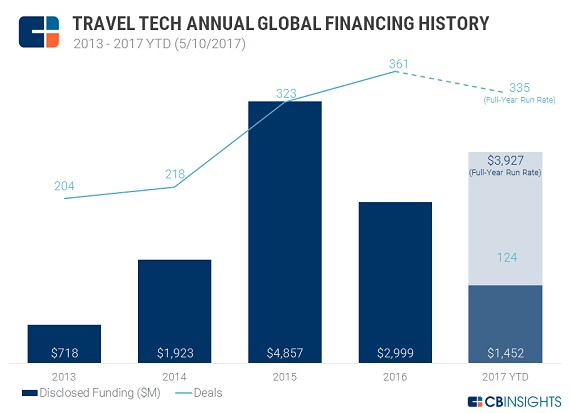 500 Startups is the biggest backer of travel tech brands, in terms of volume of deals, followed by SV Angel and Plug & Play.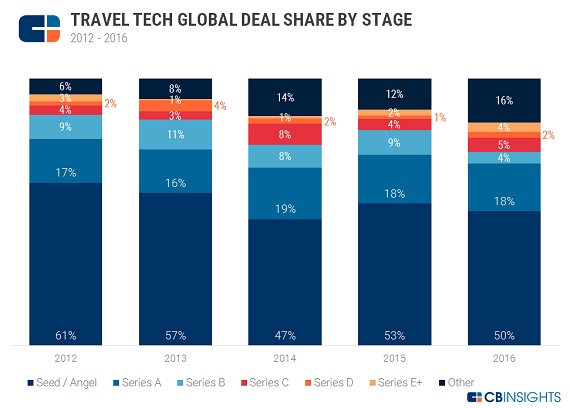 A notable shift over the year last five years is the reduction in the number of seed rounds into travel tech businesses – from 61% of overall deals in 2012 to 50% last year.
Read original article