Home
>
>
Airbnb wants to remake the entire travel industry
Airbnb wants to remake the entire travel industry
After forcing the biggest changes in travel since Priceline and Expedia, Airbnb is running out of easy room to grow against lodging firms. It needs to upend the entire travel experience.
The company has reportedly said it can reach USD 3 billion in profit by 2020. It was valued at USD 31 billion last year, meaning that only Marriott's USD 39 billion valuation is greater in the lodging sector.
"They are not Amazon to retail," said said Jared Shojaian, leisure, gaming and lodging analyst at Wolfe Research. "It won't destroy the hotel industry. Maybe hotels can't drive the same type of rate growth that they have had historically because of this new competitor, but who knows how big it will continue to get," he said.
CEO and co-founder Brian Chesky told Fortune magazine that its core Homes business will account for less than half of Airbnb's revenue someday.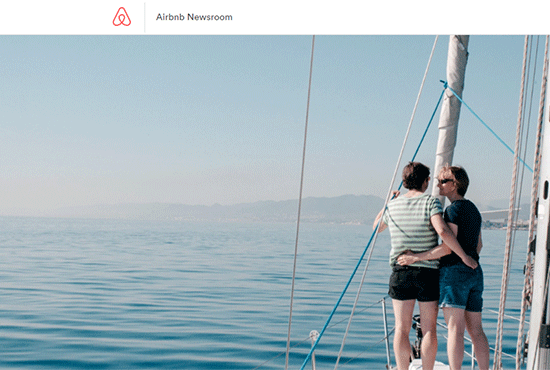 Airbnb has hinted since last November about taking its travel touch to the online flight-booking space. That would put Airbnb in direct competition with Expedia and Priceline Group, the two largest players in the traditional online travel agency industry, where overall bookings grew 10% last year, to USD 62.5 billion, according to research firm Phocuswright.
The flight-booking space is tough, with lower margins than hotel and car rentals, and airlines tightly controlling inventory. But it could be a natural stepping stone to the greater online travel agency market, where Airbnb can try to preserve its incredibly fast growth story as it pursues an eventual IPO.
Big online travel agencies are moving in on Airbnb's turf as well. In the most recent quarter, Priceline's Booking.com offered roughly 650,000 "alternative lodging" properties — many which include multiple listings — an increase of more than 50% from a year before.
Priceline's valuation of USD 89 billion is bigger than both Marriott and Airbnb combined.
Expedia said its alternative lodging subsidiary, HomeAway, experienced 30% growth in the most recent quarter. It has 1.4 million listings.
Airbnb is considering different options for breaking into the market, including acquiring an online travel agency.
Airbnb is also tapping into the idea that travelers want a more unique experience. Under its new Trips platform, Airbnb launched its Experiences initiative last year in 12 cities, allowing guests to take part in unusual events.
While Experiences marks an easy extension of Airbnb's travel-like-a-local brand, analysts are unsure of how it can scale to ever become more than a single-digit share of the company's business.
The hotel industry, with its millions of physical properties around the world, hasn't been as nimble as Airbnb to adapting to the millennial crowd. But it has played a good game of catch-up.
French multinational AccorHotels became one of the first big hotel firms to buy into a home-sharing start-up last year when it took a minority stake in Oasis Collections, which facilitates the renting of fully-vetted upscale homes, along with an in-person concierge.
Hotels have also proved resilient at keeping market share and sales, even in the face of competition from Airbnb, although they're probably facing price pressure.
Read original article