Booking.com CEO Gillian Tans, who was promoted from president and chief operating officer to president and CEO on April 27 last year after Darren Huston left the company, was the highest paid online travel executive among publicly traded companies in 2016.
Tans, as the CEO of the largest and most important brand within the Priceline Group, earned total compensation of $17.1 million last year, edging out her boss, then-Priceline Group Interim CEO Jeffery Boyd at $16.49 million. [See chart below detailing the total compensation of leading online travel CEOs at publicly traded companies. Total compensation typically includes salary, stock awards, incentive pay, and other miscellaneous compensation.]
There was a wide gap between Tans and Boyd's total compensation, respectively, and that of the rest of the pack, with Barry Diller, the senior executive at Expedia Inc., coming in third with total compensation at the company of $8.54 million.
The Priceline Group, which includes brands such as Booking.com, Kayak, Priceline.com, Agoda, Rentalcars.com and OpenTable, is coy about disclosing Booking.com-specific financials other than to say the hotel-booking site is the Group's largest brand.
Unlike other executives' compensation in the Priceline Group, Tans' cash bonus was tied specifically to the earnings before interest, tax, depreciation, and amortization performance of Booking.com — a standard measure known as EBITDA.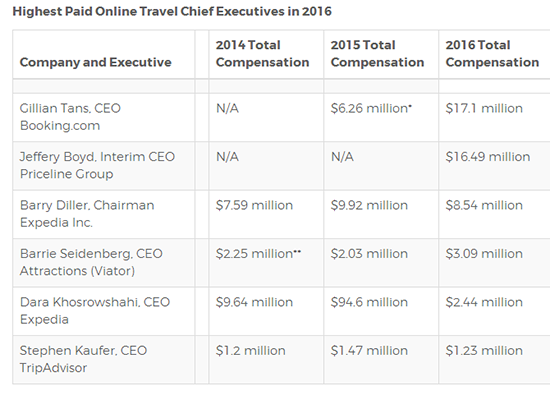 Read original article