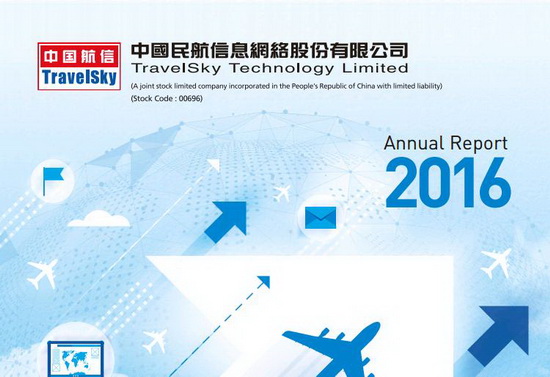 TravelSky recorded revenues of RMB 6,223.2 million (USD 904 million) in 2016, up by 13.7% YoY. EBITDA climbed 19.5% to RMB 3,216.8 million (USD 467 million) in the mean time, according to its recently released annual report for the year.
Compared with its western peers, TravelSky is smaller in terms of revenues and EBITDA although its margins seems greater, and its year-on-year growth profile is stronger. TravelSky also concentrates on one market (China) and is very much an aviation-focused business.
US peer Sabre reported USD 3.4 billion revenues in 2016, 13.9% more than previous year, while adjusted EBITDA came in at USD 1 billion, up by 11% YoY. UK-based counterpart Travelport meanwhile saw USD 2.4 billion net revenue in 2016, 6% more than 2015, and adjusted EBITDA rose 7% to USD 574 million. Madrid-listed Amadeus ended 2016 with revenues of EUR 4.5 billion (USD 4.8 billion), up 14.3% on 2015, and an EBITDA of EUR 1.7 billion (USD 1.8 billion), up 16% YoY.
TravelSky's biggest unit is "aviation information technology services" which covers what it describes as electronic travel distribution, inventory control, computer reservation systems and airport passenger processing services.
This unit works with 38 commercial airlines in China and more than 350 foreign and regional commercial airlines. It processed 524.2 million flight bookings on domestic and overseas airlines during 2016.
Its "accounting, settlement and clearing services" handled more than 800 million transactions and more than 300 million BSP tickets in 2016.
Some 70,000 sales terminals at 8,000 agents and distributors connect to this network, and in 2016 it processed more than 420 million transactions valued at RMB 424.8 billion (USD 62 billion).
TravelSky's dominant position in China is well known, but in the report chairman Cui Zhixiong hints at international ambitions, talking about "seeking breakthroughs in overseas businesses". Perhaps its purchase of OpenJaw was the start of something big.
Read original article