Beijing Capital International Airport (Beijing PEK) ranked second in the top 20 busiest airports last year, growing 5% to over 94 million passengers in 2016, according to Airports Council International (ACI), global trade representative of the world's airports.
Atlanta-Hartsfield-Jackson (ATL) retained the top spot as the world's busiest airport, boasting over 104 million passengers, 2.6% more than 2015.
Beijing PEK saw subdued growth in previous years as it faced continuing capacity constraints. Conversely, ATL experienced above average growth levels spurred by aircraft fleet expansions in 2015 by Delta Air Lines, its major operator.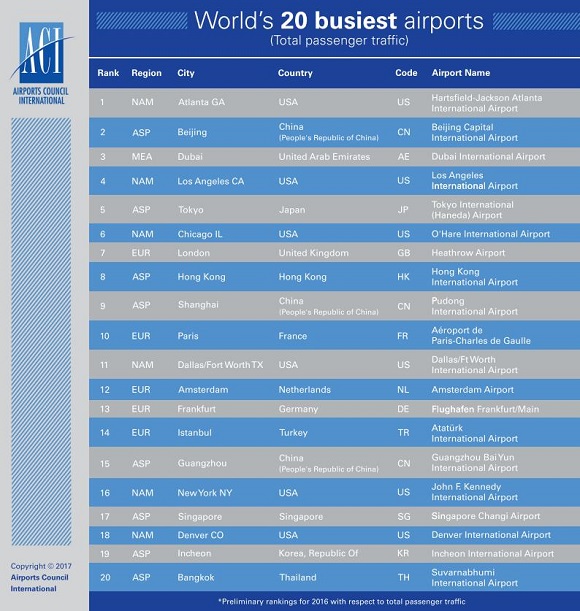 Traffic at the world's 20 busiest air passenger hubs grew 4.7% in 2016. With over 1.4 billion passengers passing through their airports in 2016, this group of 20 represents 18% of global passenger traffic.
Asian airlines continued to make important inroads in the North American market on key international and trans-Pacific segments across airport pairs, particularly between North America and China.
One of the major Chinese airports serving the trans-Pacific routes and other international routes includes Shanghai Pudong (PVG), which grew 9.8% in 2016 to over 66 million passengers. It climbed to ninth place in 2016.
The Chinese hub also serves the catchment area of Shanghai, one of the most populous city markets in the world and a major centre for trade and business. PVG, which represents over 60% of Shanghai's passenger traffic in 2016, and Hongqiao (SHA), the city's sister airport, surpassed the 100 million passenger mark in combined passenger traffic.
Shanghai joined the ranks of the world's busiest city markets in 2016, in the company of London, New York, Tokyo and Atlanta.
Read original article