China's weakening yuan cut USD 1.6 billion from profits earned by the country's three largest airlines last year, denting a sector whose fortunes have risen on the back of the country's travel boom.
Air China , China Eastern Airlines and China Southern Airlines all missed analyst expectations on Thursday, with their foreign exchange losses totalling RMB 11.04 billion (USD 1.6 billion).
The three airlines reported a combined profit of RMB 16.38 billion (USD 2.37 billion) in 2016.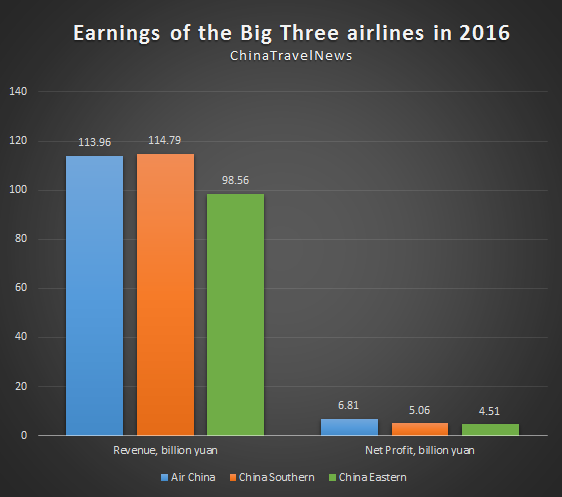 The airlines have aggressively ordered new aircraft to take advantage of strong travel demand from China, the world's fastest growing aviation market. However the loans they took for these purchases were mainly denominated in U.S. dollars.
This exposed them to depreciation of the yuan which lost 6.6% of its value against the surging dollar last year in its biggest annual fall since 1994.
Air China posted a 0.6% rise in full-year profits attributable to shareholders while China Eastern's dipped 0.7%. China Southern reported a nearly 30% rise in its profits attributable to shareholders.
Key figures of the three airlines in 2016
Air China's net profit attributable to shareholders rose 0.6% YoY to RMB 6.8 billion (USD 987.22 million), falling short of a 7.35 billion yuan forecast earlier. Revenue rose 4.6% to RMB 114 billion.
China Southern Airlines reported that its net profit attributable to shareholders climbed 29.9% to RMB 5.06 billion (USD 734.50 million), its strongest performance since 2011. Revenue rose 2.95% to RMB 114.8 billion.
China Eastern Airlines saw a 0.7% dip in net profit attributable to shareholders to RMB 4.51 billion (USD 653 million). Revenue rose 5.03% to RMB 98.56 billion.
Read original article