Air China, China Eastern Airlines and China Southern Airlines, the nation's "big three," are increasingly ferrying passengers from the mainland to Europe and the U.S. without hopping over in Hong Kong or Singapore.
Hundreds of billions of dollars of new aircraft in the past decade have helped the state-owned airlines expand in a market where some 488 million people - or the combined populations of the U.S., Germany and the U.K. - take to the skies every year.
"Beijing, Shanghai and Guangzhou are all becoming powerful hubs as well, being able to draw traffic from China to Europe and U.S., increasingly competing with Tokyo, Seoul and Hong Kong," said Steve Saxon, a Shanghai-based partner at McKinsey & Co.
The carriers may report a combined profit of about RMB 19.5 billion (USD 2.8 billion) for 2016, their best since 2010, according to estimates compiled by Bloomberg.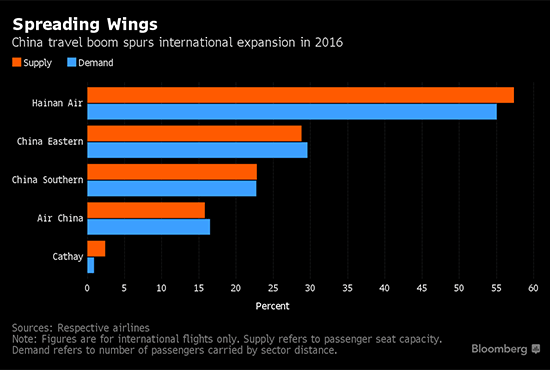 A market that grew almost 11% last year - three times the clip in the U.S. - means China's carriers are in a sweet spot their premium rivals in the region can only envy. Demand for seats has by and large kept pace with capacity addition.
Among rivals bearing the brunt of that expansion is Cathay Pacific Airways, the marquee airline that owns about 18% of flag carrier Air China.
Though local rivals such as Hainan Airlines, controlled by HNA Group, are trying to secure a footing, the top three state-controlled airlines together command 80% of the international market.
Hainan Airlines, whose capacity expansion has been the most aggressive among the Chinese operators, reported that its net profit attributable to shareholders rose 4.51% to RMB 3.14 billion, while sales jumped 15.48%.
The expansion is a worthy investment as demand for outbound travel remains strong, said Saxon at McKinsey. China has been the world's largest source of outbound tourists, with over 120 million Chinese venturing abroad in 2016.
Global operators have been wanting a share of the pie as well. American Airlines, the world's largest carrier, agreed to invest USD 200 million in China Southern this week in a deal that involves code sharing. The pact follows a similar accord in 2015, when Delta Air Lines announced a USD 450 million investment in China Eastern.
Read original article